Every day is a magical day at Hamleys
By regularly visiting our Regent Street Store page you'll never miss any of the action!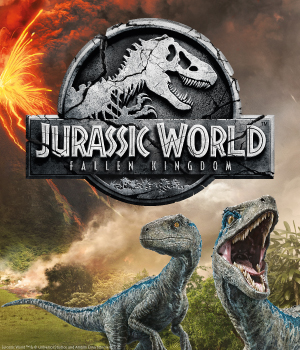 Jurassic World Dino Toy Hunt!
Date: 20th May – 30th June (every day)
Calling all Dino Rangers! Ask a Hamleys Helper for a Dino Toy Hunt leaflet and follow the dinosaur footprints to solve the 3 questions around the store. By participating you will get the chance to win an incredible Jurassic World Fallen Kingdom toy bundle worth £250!
Come in for a ROAR-some Jurassic World Dino Toy Hunt at Hamleys Regent Street starting on Ground Floor!
Terms and Conditions: The "Promoter" of this competition is Hamleys of London Limited ("Hamleys"), registered at 2 Fouberts Place W1F 7PA. Company Registration Number 02287862. The Competition is not open to employees (or family members of employees) of Hamleys or those associated with the promotion and all affiliates of such companies. The promoter reserves the right to verify the eligibility of entrants in its sole and absolute discretion. The Prize winner will be contacted by Hamleys to receive the prize. The prizes are as stated and are not transferable. The prize cannot be redeemed in whole or in part cash.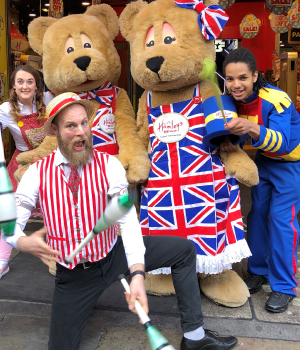 Hamleys Daily Grand Opening!
Date: Monday - Friday 10:00; Saturday - 9:30am; Sunday - 12:00
How would you like to help Hamley and Hattie Bear open the most famous toy shop in the World? Every morning you can meet our loveable, huggable bears and join in the fun as we countdown to our grand opening! Don't forget to take a selfie with Hamley and Hattie and share on social media with #Hamleys!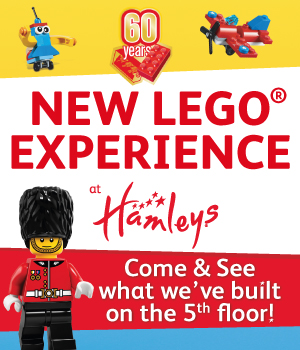 New LEGO Experience at Hamleys!
To celebrate the 60th anniversary of the iconic LEGO brick, Hamleys and LEGO have built a brand new hangout for families and children on the 5th floor of our Regent Street store. Customers will be welcomed into the newly refurbished area by LEGO brick built Royal Guards. Children are free to explore, build, create and get hands on while surrounded by an extravaganza of building brick bustle! New features include:
A hunt to find the LEGO crown jewels with the eminent Sherlock Holmes
Upscaled LEGO London themed brick built models
Minifigure Me! A new high-tech device that scans you, and figure out which LEGO Minifigure you are
A London park themed playground that offers families an opportunity to build LEGO together
Bundles of exciting LEGO product
Build, Make and Create at our brand new LEGO Build Stations
Plus, you can get up to 20% Off selected LEGO toys. Come and see what we've built on our 5th floor!#LEGOatHamleys
*Additional Information: * 20% off promotion is on selected lines only, while stocks last. Standard Hamleys T&C's apply.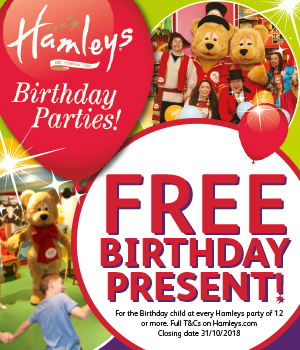 Book your Hamleys Birthday Party and receive a FREE present worth £75!
Date: 1st – 31st October 2018
Where: Hamleys Regent Street
From the moment you book your birthday party at Hamleys the fun, magic and theatre begins!
Hosted by the Hamleys Entertainers, our special guests will enjoy an action packed time including activities, games & lots of fun. From treasure hunts and arts & crafts to dancing and party games, the birthday child and their friends will get to enjoy a truly magical experience. Each child will even get to take away a gift bag exclusive to Hamleys.
PLUS if you book your magical birthday party from 1st – 31st October 2018, you get a FREE present for the birthday child worth up to £75!*
*For the birthday child at every Hamleys Party of twelve children or more, booked before 31/10/2018. Terms and conditions apply, ask in store for more details.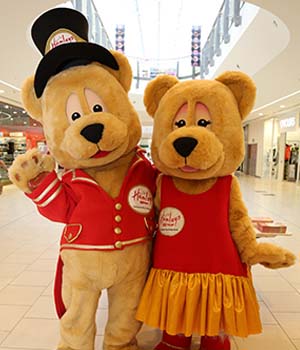 Hamley & Hattie Bear Meet & Greet!
Date: Every day!
Time: 12pm, 3pm, 4pm
Come in every day for a chance to meet our loveable Hamley or Hattie bear! Don't forget when you find them to take a selfie and share on social media with #hamleys!
Join in the fun & high fives with everyone's favourite bear!
Additional Information: All Hamleys customers should expect queues at free events; customers should arrive early to avoid disappointment. Queues will be cut to ensure the event finishes on time. Activity times and dates may vary. Standard Hamleys T&C's apply.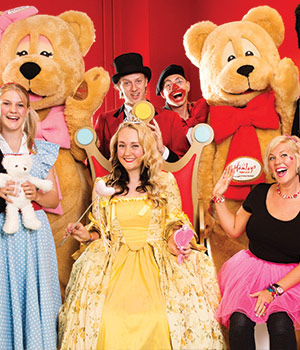 Book your Hamleys Birthday Party Online!
Date: NOW!
Where: Hamleys Regent Street
You can now book your little one's Hamleys Birthday Party using our brand new online booking service.
Book now here!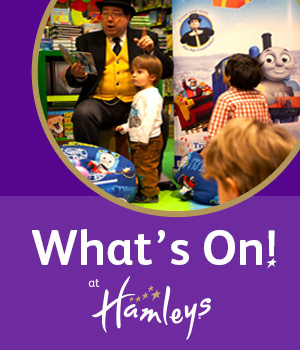 Hamleys on Facebook!
Date: Keep up to date Every Day!
Time: LIKE us today!
Where: Online!
We are always having a great time at the Finest Toy Shop in the World! To make sure you don't miss out on the fun, magic and theatre join us on Facebook by clicking on the link below and LIKE your local page. This means you will never miss out on special events, character visits, special offers, competitions and lots more!
Hamleys - Bringing Toys to Life!