Every day is a magical day at Hamleys
By regularly visiting our Regent Street Store page you'll never miss any of the action!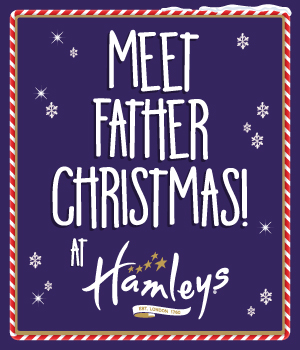 Meet Father Christmas at Hamleys!
Date: 24th November - 24th December
What's that I hear? Someone very special is making a list, checking it twice and going to find out who's naughty or nice! Make sure you're on the nice list and Book Now!
Jingle all the way to the Finest Toy Shop in the world to join Father Christmas and his loveable elves for fun, magic and theatre at this very special time of year. Meet Father Christmas at Hamleys is an extra special experience where children will take part in seasonal games and activities, spend time with Father Christmas and receive an extra special gift bag to take home.
For details on prices, session times and to see our full T&C's for your local toy shop
click here
.
*Food will be included in select locations only. Please see our T&C's for information on your local toy shop.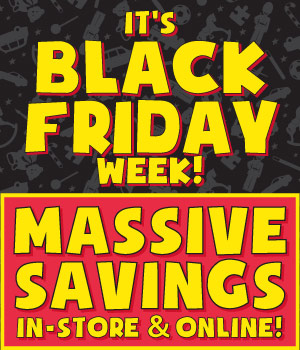 Black Friday at Hamleys!
When: Thursday 15 November – Monday 26 November
Black Friday at Hamleys is not just one day but 12 whole days!
Head down to Hamleys Regent Street or online at Hamleys.com/BlackFriday between Thursday 15 and Monday 26 November and enjoy MASSIVE SAVINGS on hundreds of toys and games, including favourite brands such as LEGO, Barbie, Playmobil, Superwings, Paddington, Fisher Price, Vtech, Thomas & Friends and Ravensburger games and puzzles.
Check out our biggest ever Black Friday deals here!
And of course, there's all the usual Christmas magic and fun you would expect at your local Hamleys.
#HamleysChristmas
*Exclusions, terms and conditions apply. Subject to availability, while stocks last.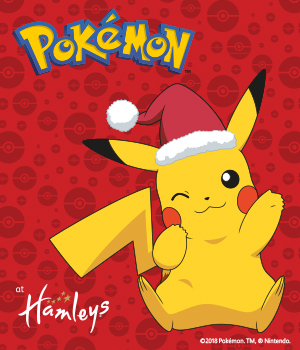 Meet Pikachu and Eevee at Hamleys!
Date: Saturday 17 November & Sunday 18 November
Time: 12 – 4pm (Saturday) & 12- 5pm (Sunday)
Calling all Pokémon Trainers! The Pokémon Company International is teaming up with Hamleys for two days of exciting Pokémon activity at the world-famous toy shop in London's Regent Street.
Head down to Hamleys on 17 and 18 November to meet the beloved Pikachu and Eevee, and step into a giant Pokémon snow globe for the ultimate festive selfie on the ground floor. Collectors and players who spend £10 on selected Pokémon Trading Card Game products in store will also receive a limited-edition promo card featuring Suicune. Pikachu and Eevee sun visors will also be up for grabs.*
On Hamleys' fifth floor, you'll find a wide display of products including the Pokémon Trading Card Game, as well as the new range of unique action figures, plush and role-play items.
*Subject to availability, while stocks last. Limited to one card per purchase/transaction. Limited to the following selected Pokemon Trading Card Game products only: 10 Additional Game Cards" Booster Pack; Theme Deck; 3-Booster Blister Pack; Elite Trainer Box; Pokémon-GX Box; Pokémon-EX Box; Pokémon TCG Tin; Pokémon TCG Premium Collection; Pokémon TCG Collection; Pokémon TCG Pin Collection; Deck Shield.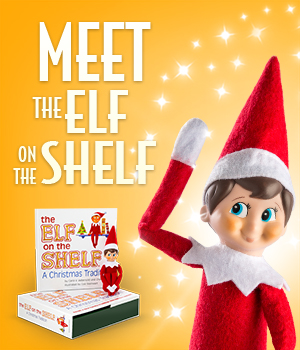 Meet The Elf on the Shelf!
Date: 1 and 2 December
Time: 12am – 4pm
Come meet Santa's official Scout Elf at Hamleys toy store, an official The Elf on the Shelf® adoption centre.
Celebrate the festive season and this much-loved Christmas tradition, with a fun-filled day, which all the family will love. After meeting The Elf on the Shelf® mascot, enjoy storytelling, colouring, games and capture memorable family selfies with the Scout Elf. What's more, the first 50 customers who adopt The Elf on the Shelf®: A Christmas Tradition boxset will receive the holiday classic DVD An Elf's Story.
Exclusive for the Hamleys Regent Street event: Chanda Bell, co-founder and co-author of The Elf on the Shelf® will host a meet and greet, and magical storytelling at 2pm on the Saturday and Sunday. There will also be an exclusive The Elf on the Shelf® photo booth, allowing fans to capture memorable family moments in store - pictures can be printed off to take home too.
Additional Information: The Elf on the Shelf®: A Christmas Tradition tells the story of the only elves who visit families and report back to Santa to help him manage his nice list. The boxset includes an enchanting children's storybook, keepsake box and Scout Elf.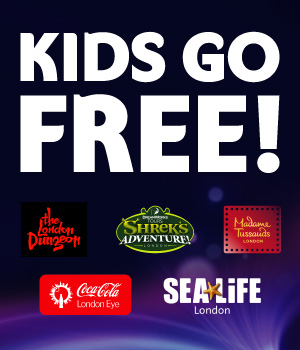 Kids Go Free at Hamleys!
Where: Hamleys Regent Street, Stansted Airport, Gatwick Airport, St Pancras, Heathrow Airport T2, Heathrow Airport T4, London Bridge, Luton Airport, intu Lakeside & Hamleys.com
Hamleys have partnered with Merlin Entertainment's Magical London attractions to give every customer two FREE child's ticket worth up to £60 to either Madame Tussauds, Coca-Cola London Eye, Sea Life London Aquarium, London Dungeons or Shrek's Adventure! That's right, you can buy a toy, a teddy bear or even Scrumpalicious sweets - it doesn't matter! Any time you make a purchase in store or online you will receive a special voucher that can be used at any one of these incredible attractions! It's so simple!
So why not pick up a Kids Go Free leaflet in store today or online with every purchase!
Join in the fun and make sure your KIDS GO FREE!
Additional Information: One (1) Kids Go Free leaflet will be given out with an individual transaction. The leaflet is non-transferable, non-refundable and cannot be exchanged for cash or gift vouchers. This leaflet entitles you to a free child ticket once a fully priced adult ticket is purchased. There is a limit of two free child tickets per leaflet. Please note that children under 3 go free at Merlin's Magical London attractions. A child is aged between 3-15 and an adult is 16 and over. Children between 3-15 years old must be accompanied by an adult (18 years and over) when visiting all of Merlin's Magical London attractions. The offer is only valid for tickets bought at the attraction on the day of your visit and cannot be used in conjunction with any other promotions. Excluded dates: All attractions will be closed on Christmas Day. Not valid at the London Dungeon between October 26th – 27th 2018. Not valid at the Coca-Cola London Eye between December 26th – 31st 2018 and January 7th – 22nd 2019. Offer valid until March 31st 2019. Hard copy leaflets will be distributed with all purchases made online at www.hamleys.com.
Make it Snow at Hamleys!
Date: November 15 – December 24 2018
Time: Monday to Friday: 10am, 12:30 pm & 5pm; Saturday: 9.30am, 12pm & 5pm; Sunday 12pm, 3pm & 5pm
Everyone loves snow, right?? Here at the Finest Toy shop in the World the Hamleys Elves guarantee to create a white Christmas every day using a sprinkle of festive magic!
Join the Hamleys North Pole Elite from Thursday 15 November to Christmas Eve and watch it snow with your friends and family.
Plus, we will be choosing an extra special child on the day to ring the Christmas bell and sing the magical song to help our Elves make it snow!
So why not come along to Hamleys and meet our lovable, cheery Elves at the main entrance to the store on the dates and times above.
Have a Hamleys Christmas!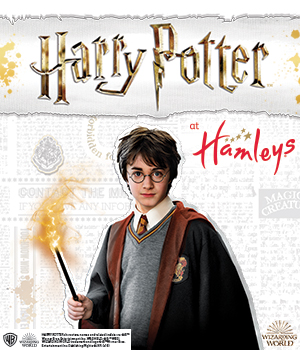 Calling all Witches and Wizards! Harry Potter is arriving at Hamleys on Regent Street! Our new Harry Potter area on our Lower Ground Floor will offer one of the largest assortments of Harry Potter products in the UK, mesmerising Toy Demonstrations, Photo Opportunities, Competitions and a Flying Golden Snitch! Be one of the first to join in the Fun, Magic and Theatre at the Finest Toy Shop in the World with Harry Potter at Hamleys. It truly is a must see this summer!
#HarryPotteratHamleys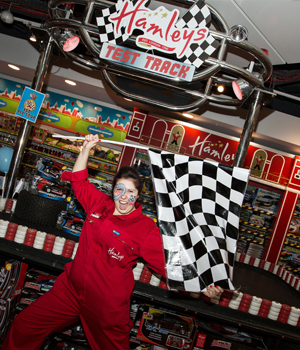 The Turbo Tumbler Battle Arena!
When and Where: Every day on the ground and 4th floors
Battle it out with your friends in the Super Turbo Battle arenas in store. We have two in store so come find your arena on either the ground or 4th floor.
To make sure you have the advantage against your friend here's a quick tip for you to perform wheelies: Run the car quickly forwards, and then suddenly reverse it. At the same time give a quick flick of the front wheels to the left or right. The car will flip back onto its small back wheel and will do wheelies in the air.
We hope to see you at the Turbo Tumbler Battle Arenas soon! #Hamleys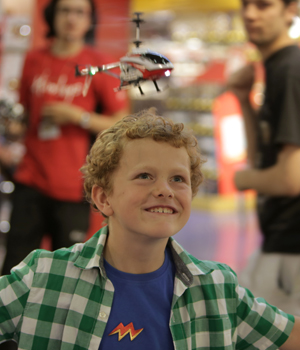 Watch a Drone Take Flight!
When and Where: Every day on the 4th floor
Is it a bird? Is it a plane? No, it's a Hamleys drone!
We have an amazing crew of experienced drone pilots in store demonstrating all the amazing skills and tricks they are capable of as they take to the skies of the 4th floor!
So, come and witness these awesome stunts take place! And if you ask nicely, they may even give you a few tips as to how you can do them yourself at home so you can become your very own master drone pilot.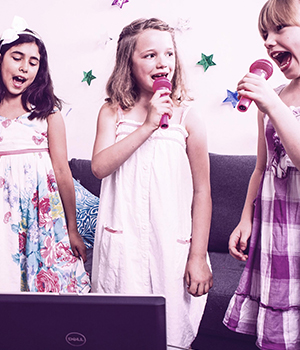 Karaoke Machine In Store!
When and Where: Every day on the 2nd Floor
Yes, that's right, we do have a Lucky Voice karaoke machine in store waiting for you to come and sing your heart out. Whether you're the next Elsa in the making and ready to LET IT GO, or the next big boyband, this is your moment!
The Finest Toy Shop in the World has never heard a voice like yours so come along today, take the mic and show the world what you've got!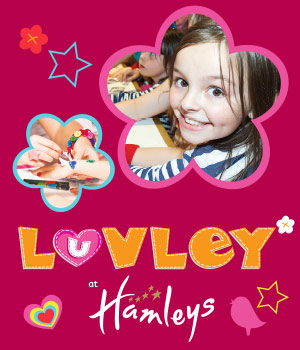 Have a Luvley Day!
When and Where: Every day on the 2nd floor!
Have A Luvley Day at the Finest Toy Shop in the World!
Get involved in our exciting Luvley Boutique activities! Take part in one of our Glittertastic demonstrations, nail art, nail stamping and glittery body art. Strut down Regent Street and show everybody your best pose now you've been Luvleyfied!!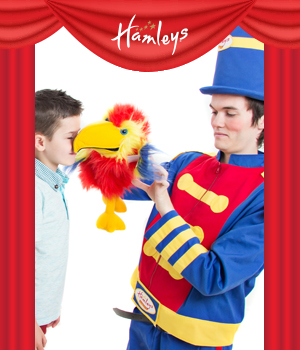 Unmissable Puppet Shows!
When and Where: Every day on the ground floor
Did you know that Hamleys have a daily puppet show?
Well you do now!
Follow the adventures of Superchimp the craziest, cuddliest superhero in Hamleys Regent Street! Wouldn't it be great to be a superhero? It's a shame they don't really exist…until now! And help Owlbert's find the Lost Letter: A young student who dreams of being a great wizard meets a magic owl called Owlbert. Owlbert has a very special delivery – if only he could find the letter!
These are definitely not ones to be missed! Come to Hamleys today and witness a puppet show like no other.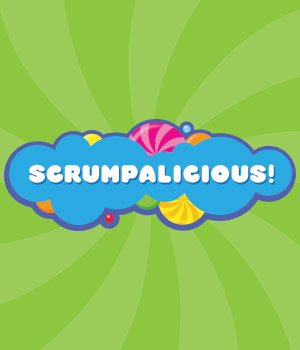 Enjoy Scrumpalicious Snacks!
When and Where: Every day on the 5th Floor
Make sure you visit the 5th floor of the finest toy shop in the world where you'll find our Scrumpalicious Snack Shop filled with all the wonderful snacks you could imagine! Head to Shaketastic for award winning shake's and smoothies! That's all we sell, so they have to be the best, right?! Or if you want to see some sweets being made to store, go over to Spun Candy and witness their creations. If that's not enough, you can visit Wafflemeister on the ground floor by the entrance for the best waffles in the world! "It's Time to Get Your waffle on"
Sit back, relax and enjoy!See you soon!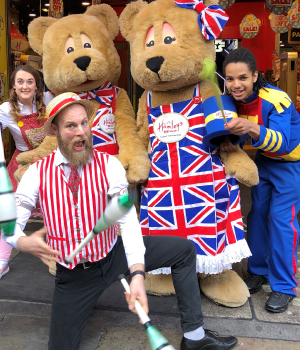 Hamleys Daily Grand Opening!
Date: Monday - Friday 10:00; Saturday - 9:30am; Sunday - 12:00
How would you like to help Hamley and Hattie Bear open the most famous toy shop in the World? Every morning you can meet our loveable, huggable bears and join in the fun as we countdown to our grand opening! Don't forget to take a selfie with Hamley and Hattie and share on social media with #Hamleys!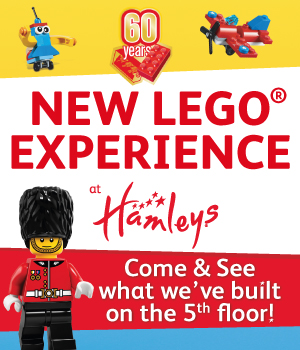 New LEGO Experience at Hamleys!
To celebrate the 60th anniversary of the iconic LEGO brick, Hamleys and LEGO have built a brand new hangout for families and children on the 5th floor of our Regent Street store. Customers will be welcomed into the newly refurbished area by LEGO brick built Royal Guards. Children are free to explore, build, create and get hands on while surrounded by an extravaganza of building brick bustle! New features include:
A hunt to find the LEGO crown jewels with the eminent Sherlock Holmes
Upscaled LEGO London themed brick built models
Minifigure Me! A new high-tech device that scans you, and figure out which LEGO Minifigure you are
A London park themed playground that offers families an opportunity to build LEGO together
Bundles of exciting LEGO product
Build, Make and Create at our brand new LEGO Build Stations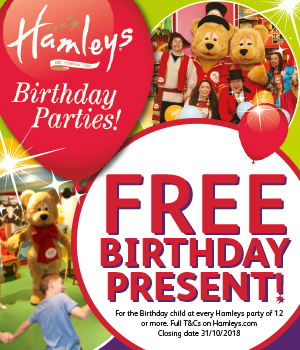 Book your Hamleys Birthday Party and receive a FREE present worth £75!
Date: 1st – 31st October 2018
Where: Hamleys Regent Street
You can now book your little one's Hamleys Birthday Party using our brand new online booking service. Book now here!
Hosted by the Hamleys Entertainers, our special guests will enjoy an action packed time including activities, games & lots of fun. From treasure hunts and arts & crafts to dancing and party games, the birthday child and their friends will get to enjoy a truly magical experience. Each child will even get to take away a gift bag exclusive to Hamleys.
PLUS if you book your magical birthday party from 1st – 31st October 2018, you get a FREE present for the birthday child worth up to £75!*
*For the birthday child at every Hamleys Party of twelve children or more, booked before 31/10/2018. Terms and conditions apply, ask in store for more details.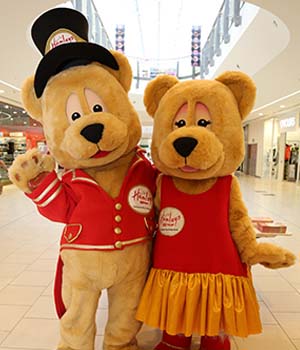 Hamley & Hattie Bear Meet & Greet!
Date: Every day!
Time: Various times during the day!
Come in every day for a chance to meet our loveable Hamley or Hattie bear! Don't forget when you find them to take a selfie and share on social media with #hamleys!
Join in the fun & high fives with everyone's favourite bear!
Additional Information: All Hamleys customers should expect queues at free events; customers should arrive early to avoid disappointment. Queues will be cut to ensure the event finishes on time. Activity times and dates may vary. Standard Hamleys T&C's apply.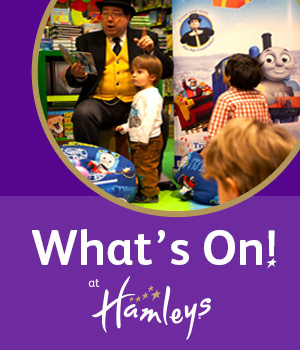 Hamleys on Facebook!
Date: Keep up to date Every Day!
Time: LIKE us today!
Where: Online!
We are always having a great time at the Finest Toy Shop in the World! To make sure you don't miss out on the fun, magic and theatre join us on Facebook by clicking on the link below and LIKE your local page. This means you will never miss out on special events, character visits, special offers, competitions and lots more!
Hamleys - Bringing Toys to Life!