Every day is a magical day at Hamleys
By regularly visiting our Dublin Store page you'll never miss any of the action!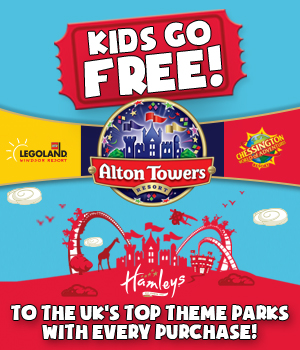 KIDS GO FREE TO THE UK'S TOP THEME PARKS!
Hamleys have partnered with the UK's top theme parks to give every customer a FREE child's ticket to either Alton Towers Resort, Chessington World of Adventure Resort or LEGOLAND Windsor Resort! That's right, you can buy a toy, a teddy bear or even scrumpalicious sweets, it doesn't matter! Any time you make a purchase you will receive a special voucher attached to your till receipt that can be used at any one of these incredible attractions! It's so simple…so why not join in the fun and make sure your KIDS GO FREE!
Plus…KIDS STAY FREE at Alton Towers Resort Hotel with every spend over £50!
T&C's apply, © Merlin Entertainments 2017
SPRING INTO HAMLEYS!
Date: Throughout the Easter Holidays!
Time: 12-4pm
Hop along to Hamleys as we put a spring in your step and FREE fun at your fingertips! We have so much for you to do during the school holidays, so come along and jump into the Finest Toy Shop in the World!
With chocolates, sweet treats, candy floss and popcorn - you'll have a Scrumpalicous time at Hamleys this Easter! Make sure to grab as many sweets as you can when you try our brand new Candy Grabber!
You and your friends can Get Creative with our arts and crafts workshops! Join Bunny Bear and friends for a FREE Easter Party! And hop around our toy shop with our Bing and Flop Easter Hunt!
Some of your little ones' favourite characters will also be making an appearance at your local Hamleys toy shop this Easter! For more information see www.hamleys.com/explore. We can't wait to play! #springintohamleys
Standard Hamleys T&C's apply.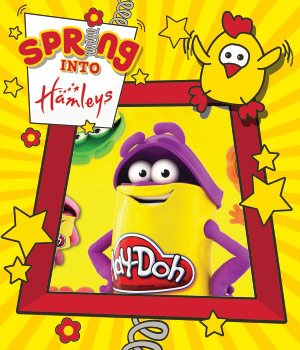 Meet Doh-Doh!
Date: Saturday 29th April
Time: 12, 1, 2 & 3
We're getting creative this Easter at Hamleys and Doh-Doh from Play-Doh will be giving us a helping hand.
Come along and meet Doh-Doh on Saturday 29th April at one of the below times.
Not only can you meet Doh-Doh, but you can have fun moulding, squidging and making marvellous creations at home with our extra special 25% off Play-Doh!*
Appearance times:
12–12.30pm
1–1.30pm
2–2.30pm
3–3.30pm
*Selected lines only, exclusions apply. See in store for more details.
Additional Information: All Hamleys customers should expect queues at free events; customers should arrive early to avoid disappointment. Queues will be cut to ensure the event finishes on time. Activity times and dates may vary. Standard Hamleys T&C's apply.
Sweet & Treats!
Date: Every Day!
Time: All day!
We can't wait for you to see our brand new Popcorn and Candy Floss Makers!
Our Scrumpalicious Popcorn Maker is a replica of the old-fashioned, street-corner popcorn stands of the early 1900s and is a table-top sized party pleaser. In just minutes, family and friends can enjoy the taste of freshly popped popcorn! This popcorn maker comes with a measuring cap that assures the proper amount of kernels are used in each batch. Enjoy the fresh taste of hot popcorn in minutes!
To complete the set why not try our new table top Scrumpalicious Candy Floss Maker! This is an electric cotton candy machine that can produce up to 2-3 servings of cotton candy per minute.
Just turn it on, wait for it to warm up (about 5 min), pour in the sugar and the machine starts producing cotton candy as fast as you can collect it! Collect the delicate webs of cotton candy on cones above the bowl. Watch as it spins into sweet candy floss!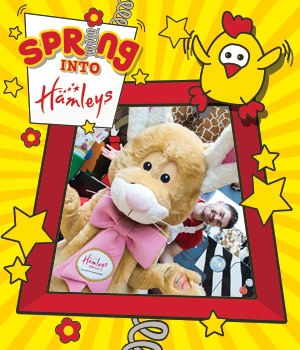 Selfie with Bunny Bear!
Date: During the Easter Holidays!
Where: Hamleys Dublin!
WIN with Hamleys this Easter! Have your photograph taken with Bunny Bear with your face in our Cheeky Chick photo frame to win £100 worth of Hamleys Toys!
Watch out for Bunny Bear hopping around! Jump in for a selfie and post your pic with the hashtag #springintohamleys!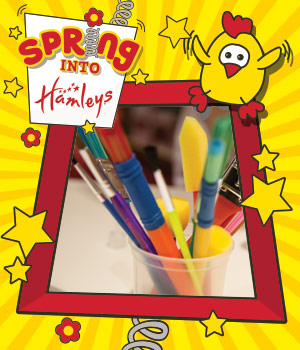 Get Creative!
Date: During the Easter Holidays!
Time: All day!
This Easter join Hamleys Experience Team and Get creative as you draw, colour, mould, stick and paint your way around Hamleys!
Write secret messages to your friends with Hamleys Colour Magic Pens, create amazing masterpieces with the Hamleys Arts & Crafts Super Set, add some shimmer to your drawings with Hamleys Sparkle Kit or make and create your very own stickerz with the cool Hamleys Stickertastic!
Come in and enjoy our free demonstrations with our Arts and Crafts experts as they show you how much fun you can have with Arts and Crafts! You can even try them out for yourselves!
It's time to Get Creative with Hamleys!
Arts & Crafts products are demonstrated in store. Please feel free to ask one of our team for a demonstration while you are shopping.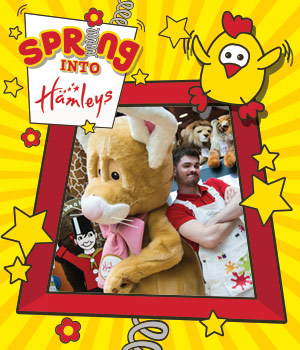 FREE Easter Party!
Date: 14th & 21st April
Time: 12-12:45pm, 1-1:45pm, 2-2.45pm & 3-3:45pm
Join in the Hamleys Easter Party this year at The Finest Toy Shop in the World!
The Experience Team will take you on an adventure through the store to the Easter Party Room where you will take part in variety of Easter activities from arts & crafts to fun-filled games, plus you'll get to nibble on some scrumpalicious sweet treats!!
You can also have a selfie with Hamleys Bunny Bear! Before you leave each child will receive some Scrumpalicious sweets to take home.
Book Now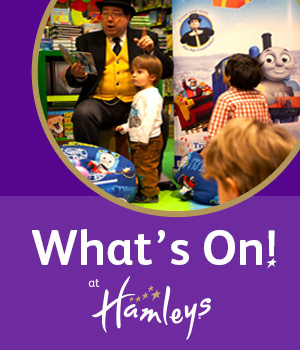 Hamleys on Facebook!
Date: Keep up to date Every Day!
Time: LIKE us today!
Where: Online!
We are always having a great time at the Finest Toy Shop in the World! To make sure you don't miss out on the fun, magic and theatre join us on Facebook by clicking on the link below and LIKE your local page. This means you will never miss out on special events, character visits, special offers, competitions and lots more!
Hamleys - Bringing Toys to Life!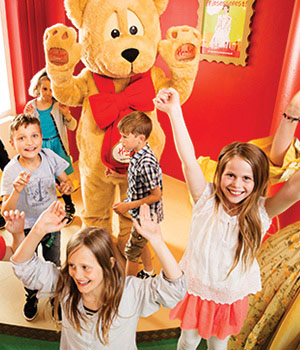 Have your Dream Birthday Party!
Date: Your Birthday!
Time: Every day!
Where: Hamleys Party Room!
Your exclusive Hamleys birthday party can take place at one of our six locations across the UK and Ireland - London, Cardiff, Glasgow, Manchester, Dublin & Lakeside. From the moment you book your birthday party at Hamleys the fun, magic and theatre begins!
Hosted by the Hamleys Entertainers, our special guests will enjoy an action packed time including activities, games & lots of fun. From treasure hunts and arts & crafts to dancing and party games, the birthday child and their friends will get to enjoy a truly magical experience. Each child will even get to take away a gift bag exclusive to Hamleys!