Every day is a magical day at Hamleys
By regularly visiting our Glasgow Store page you'll never miss any of the action!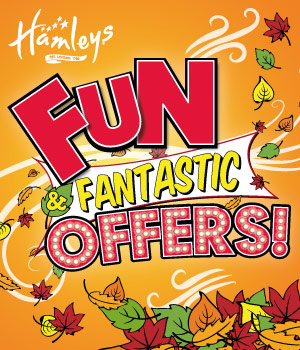 Fun & Fantastic Offers!
Date: Throughout October
Time: Selected Dates & Times
Where: Hamleys Glasgow
This October we have an action-packed month filled to the brim with FREE FUN & FANTASTIC OFFERS!
We are starting things off by giving you the chance to join WWE Network for an exclusive 2 month free trial! You check out our new, exciting range in our Luvley Boutique! Plus get loads of Free Ben 10 goodies, design beautiful bead creations with Aquabeads, take part in our Nerf challenge, meet the Red Ranger from Power Rangers Ninja Steel and Hamley or Hattie Bear will be in store for high 5's and selfies throughout Half Term!
The fun doesn't end there – you can enjoy Fantastic Offers with up to 25% off TOYS, TOYS, TOYS! Including some of your favourite brands such as LEGO, Nerf, Disney Princess, Thomas and Friends and more!
To find out more about our FREE FUN & FANTASTIC OFFERS, pop along to your local Hamleys toy shop this October.
Additional Information: *Selected lines only, while stocks last. Standard Hamleys T&C's apply.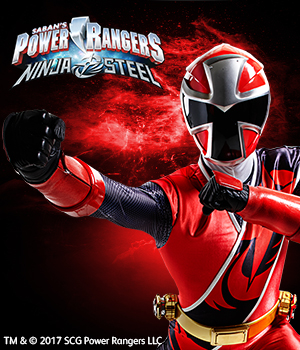 Meet The Red Ranger!
Date: Friday 20th October 2017
Time: 11am - 4pm
Where: Hamleys Glasgow
Feel the power with the Red Ninja Steel Power Ranger!
To celebrate the new series, Power Rangers Ninja Steel, the Red Ranger has briefly stopped defeating evil to visit Hamleys! The Red Ranger is super excited to meet his fans and see what Ninja powers they possess.
Not only will you be able to meet the Red Ranger but you can also check out the morphinominal Power Rangers Ninja Steel toys! Plus there's up to 20% OFF selected Powers Rangers Toys!
Additional Information: Hamleys customers should expect queues at all free events held in their local Hamleys Toy Shop. Queues will be cut to ensure the event finishes at the time advertised. Hamleys Standard T&C's apply.
copyright: Sabans legal line is TM & © 2017 SCG Power Rangers LLC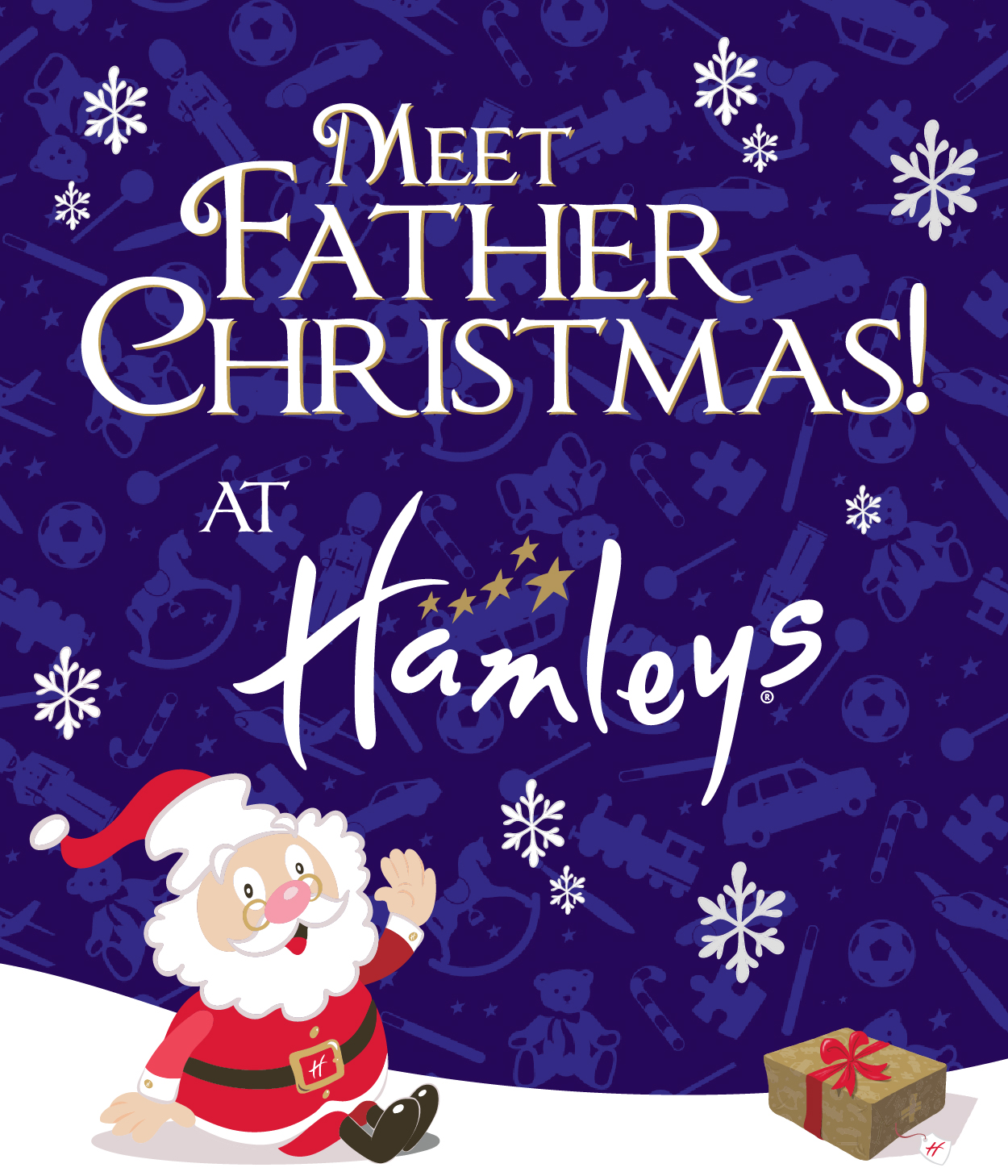 Meet Father Christmas at Hamleys!
Date: Selected dates between 25th November – 24th December
Time: Times vary in each location
Join Father Christmas and his loveable elves at the Finest Toy Shop in the World for fun, magic and theatre at this very special time of year. Meet Father Christmas at Hamleys is an extra special experience where children will take part in seasonal games and activities, spend time with Father Christmas and receive an extra special gift bag to take home. You can Meet Father Christmas in Hamleys Regent St, Glasgow, Cardiff, Manchester and intu Lakeside.
For information on food, times, prices, to read our T&C and book please go to:
Book now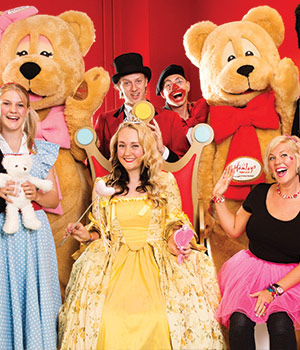 Book your Hamleys Birthday Party Online!
Date: Coming Soon
Where: Hamleys Glasgow
Very soon you will be able to book your little one's Hamleys Birthday Party using our brand new online booking service.
More information will be available soon – keep an eye on your local toy shop's Facebook page or sign up to our newsletter to receive an update first! Sign up here!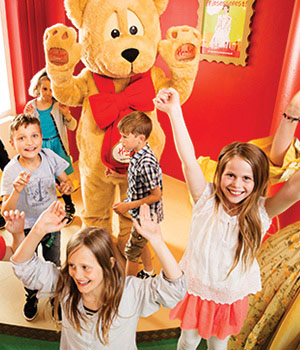 Have your Dream Birthday Party!
Date: Your Birthday!
Time: Every day!
Where: Hamleys Party Room!
Your exclusive Hamleys birthday party can take place at one of our six locations across the UK and Ireland - London, Cardiff, Glasgow, Manchester, Dublin & Lakeside. From the moment you book your birthday party at Hamleys the fun, magic and theatre begins!
Hosted by the Hamleys Entertainers, our special guests will enjoy an action packed time including activities, games & lots of fun. From treasure hunts and arts & crafts to dancing and party games, the birthday child and their friends will get to enjoy a truly magical experience. Each child will even get to take away a gift bag exclusive to Hamleys!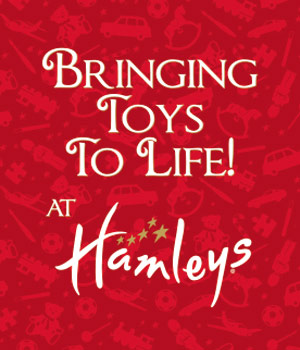 Bringing Toys to Life!
Date: Every Day!
Time: Every minute of the day!
Where: In our Toy Shop!
At Hamleys Glasgow we are Bringing Toys to Life!
Come in and meet our Experience Team as they demonstrate some of our incredible Hamleys Toys!
Watch them as they wiz around our shop on Street Gliders, fly RC Helicopters over your head, bring arts and crafts to life with Magic Pens and Sticker Scratcherz and perform amazing magic in front of your eyes!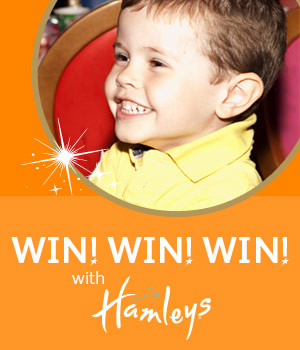 WIN WIN WIN with Hamleys Glasgow!
Date: All year round
Time: Various
Where: In store!
WIN incredible prizes every week with Hamleys Glasgow! To be in with a chance of winning some fantastic goodies, simply like the Hamleys Glasgow Facebook page and keep an eye out for our giveaways!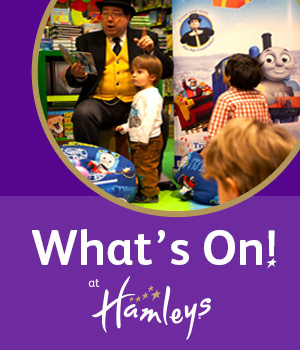 Hamleys on Facebook!
Date: Keep up to date Every Day!
Time: LIKE us today!
Where: Online!
We are always having a great time at the Finest Toy Shop in the World! To make sure you don't miss out on the fun, magic and theatre join us on Facebook by clicking on the link below and LIKE your local page. This means you will never miss out on special events, character visits, special offers, competitions and lots more!
Hamleys - Bringing Toys to Life!