Every day is a magical day at Hamleys
By regularly visiting our Glasgow Store page you'll never miss any of the action!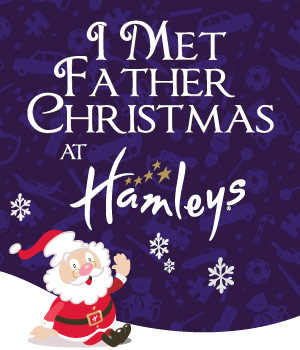 Meet Father Christmas at Hamleys!
Date: 28th November–24th December
Time: 9am-7:30pm
Where: Hamleys Party Room!
Join Father Christmas and his lovable elves at The Finest Toy Shop in the World! for fun, magic and theatre at this very special time of year. I Met Father Christmas at Hamleys! is an extra special experience where children will enjoy up to 1 hour with Father Christmas, take part in seasonal activities, enjoy delicious snacks and receive a special gift bag from Father Christmas to take home.
During school times Weekday Breakfast, Brunch and Lunch are suitable for pre-school age 3-5 years.
Each session is 1 hour long, sessions available on select dates.
Saturday Breakfast: 9am–10am
Sunday Breakfast: 10am-11am
Weekday Breakfast: 10:30am-11:30am
Saturday Brunch: 11am-12pm
Sunday Brunch: 12pm-1pm
Saturday & Weekday Lunch: 1pm-2pm
Saturday Tea: 3pm-4pm
Sunday & Weekday Tea: 4:30pm-5:30pm
Saturday Late Tea: 5pm-6pm
Weekday Late Tea: 6:30pm-7:30pm
During this group session each little guest will hear magical stories of Christmas, sing festive songs, enjoy Christmas games, write their own Christmas wish list and enjoy special time with Father Christmas himself all surrounded by the finest toys in the world!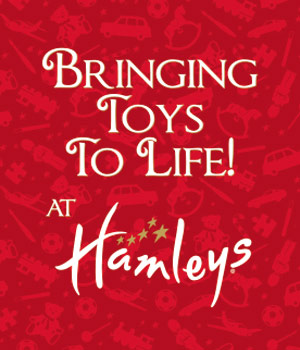 Bringing Toys to Life!
Date: Every Day!
Time: Every minute of the day!
Where: In our Toy Shop!
At Hamleys Glasgow we are Bringing Toys to Life!
Come in and meet our Experience Team as they demonstrate some of our incredible Hamleys Toys!
Watch them as they wiz around our shop on Street Gliders, fly RC Helicopters over your head, bring arts and crafts to life with Magic Pens and Sticker Scratcherz and perform amazing magic in front of your eyes!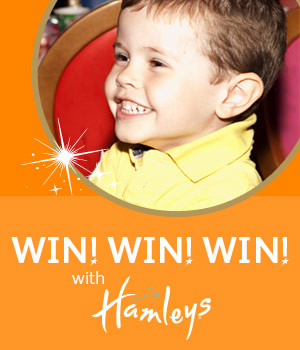 WIN WIN WIN with Hamleys Glasgow!
Date: All year round
Time: Various
Where: In store!
WIN incredible prizes every week with Hamleys Glasgow! To be in with a chance of winning some fantastic goodies, simply like the Hamleys Glasgow Facebook page and keep an eye out for our giveaways!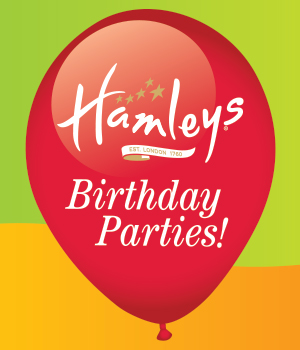 Have your Dream Birthday Party!
Date: Your Birthday!
Time: Every day!
Where: Hamleys Party Room!
Your exclusive Hamleys birthday party can take place at one of our six locations across the UK and Ireland - London, Cardiff, Glasgow, Manchester, Dublin & Lakeside. From the moment you book your birthday party at Hamleys the fun, magic and theatre begins!
Hosted by the Hamleys Entertainers, our special guests will enjoy an action packed time including activities, games & lots of fun. From treasure hunts and arts & crafts to dancing and party games, the birthday child and their friends will get to enjoy a truly magical experience. Each child will even get to take away a gift bag exclusive to Hamleys!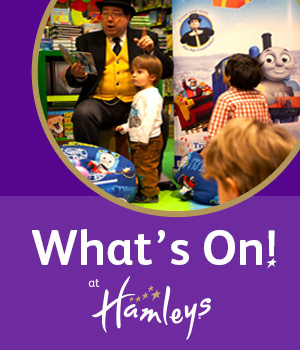 Hamleys on Facebook!
Date: Keep up to date Every Day!
Time: LIKE us today!
Where: Online!
We are always having a great time at the Finest Toy Shop in the World! To make sure you don't miss out on the fun, magic and theatre join us on Facebook by clicking on the link below and LIKE your local page. This means you will never miss out on special events, character visits, special offers, competitions and lots more!
Hamleys - Bringing Toys to Life!