Every day is a magical day at Hamleys
By regularly visiting our Regent Street Store page you'll never miss any of the action!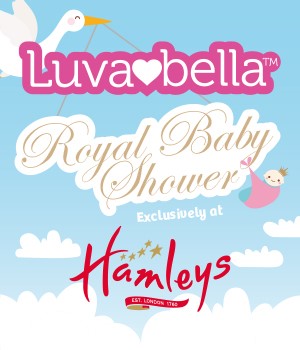 Luvabella Royal Baby Shower Competition!
To celebrate the anticipated arrival of the new Royal Baby, Hamleys and Luvabella are offering visitors the chance to win Luvabella – The world's most lifelike baby doll. The competition, will offer Hamleys customers the opportunity to guess the Royal Baby's name and weight, and be in with a chance of winning the one of ten Luvabella Dolls!
To take part, customers will be invited to take and post pictures of themselves in the specially created Luvabella Baby Shower themed set, fit for royalty. They will then be asked to decide if they think William and Kate's third child will be a Prince or Princess, along with their guess of what the baby's name and weight will be! Entries are required to be placed via Hamleys Official Instagram page @HamleysOfficial using the contest hashtags; #Hamleys and #princessluvabella OR #princeluvabeau.
Additional information: The competition will close as soon as the Royal Baby's arrival is officially announced. All entries which have correctly guessed the new Royal Baby's name and gender will be used to determine winners. IF more than TEN people correctly choose the baby's name, then the prizes will be awarded to the TEN entrants most closely guessing the baby's birth weight. TEN winners will each receive a Luvabella doll. Competition prizes will be delivered to a home address. UK and non-UK residents are eligible to participate. The prizes non-transferable, non-refundable and cannot be exchanged for cash or vouchers. Promoters reserve the right to close the competition at any time.Standard Hamleys Ts&Cs apply.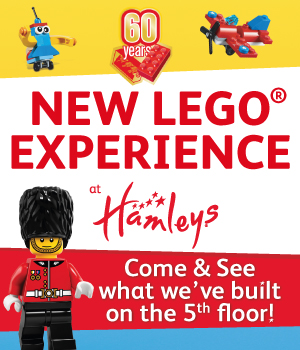 New LEGO Experience at Hamleys!
To celebrate the 60th anniversary of the iconic LEGO brick, Hamleys and LEGO have built a brand new hangout for families and children on the 5th floor of our Regent Street store. Customers will be welcomed into the newly refurbished area by LEGO brick built Royal Guards. Children are free to explore, build, create and get hands on while surrounded by an extravaganza of building brick bustle! New features include:
A hunt to find the LEGO crown jewels with the eminent Sherlock Holmes
Upscaled LEGO London themed brick built models
Minifigure Me! A new high-tech device that scans you, and figure out which LEGO Minifigure you are
A London park themed playground that offers families an opportunity to build LEGO together
Bundles of exciting LEGO product
Build, Make and Create at our brand new LEGO Build Stations
Plus, you can get up to 20% Off selected LEGO toys. Come and see what we've built on our 5th floor!#LEGOatHamleys
*Additional Information: * 20% off promotion is on selected lines only, while stocks last. Standard Hamleys T&C's apply.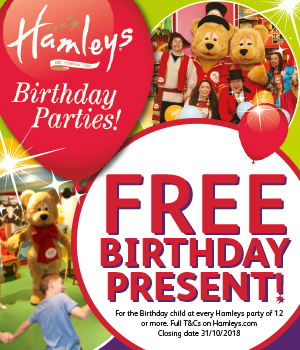 Book your Hamleys Birthday Party and receive a FREE present worth £75!
Date: 1st – 31st October 2018
Where: Hamleys Regent Street
From the moment you book your birthday party at Hamleys the fun, magic and theatre begins!
Hosted by the Hamleys Entertainers, our special guests will enjoy an action packed time including activities, games & lots of fun. From treasure hunts and arts & crafts to dancing and party games, the birthday child and their friends will get to enjoy a truly magical experience. Each child will even get to take away a gift bag exclusive to Hamleys.
PLUS if you book your magical birthday party from 1st – 31st October 2018, you get a FREE present for the birthday child worth up to £75!*
*For the birthday child at every Hamleys Party of twelve children or more, booked before 31/10/2018. Terms and conditions apply, ask in store for more details.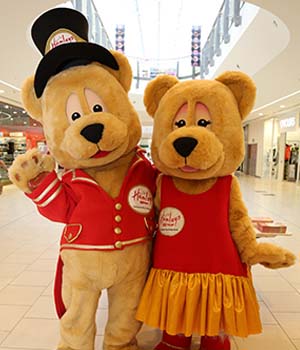 Hamley & Hattie Bear Meet & Greet!
Date: Every day!
Time: 12pm, 3pm, 4pm
Come in every day for a chance to meet our loveable Hamley or Hattie bear! Don't forget when you find them to take a selfie and share on social media with #hamleys!
Join in the fun & high fives with everyone's favourite bear!
Additional Information: All Hamleys customers should expect queues at free events; customers should arrive early to avoid disappointment. Queues will be cut to ensure the event finishes on time. Activity times and dates may vary. Standard Hamleys T&C's apply.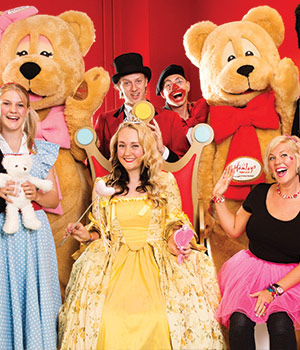 Book your Hamleys Birthday Party Online!
Date: NOW!
Where: Hamleys Regent Street
You can now book your little one's Hamleys Birthday Party using our brand new online booking service.
Book now here!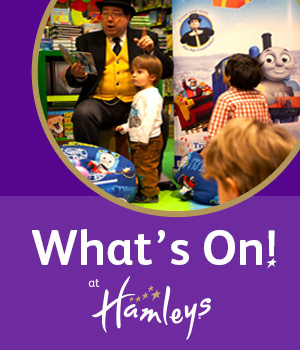 Hamleys on Facebook!
Date: Keep up to date Every Day!
Time: LIKE us today!
Where: Online!
We are always having a great time at the Finest Toy Shop in the World! To make sure you don't miss out on the fun, magic and theatre join us on Facebook by clicking on the link below and LIKE your local page. This means you will never miss out on special events, character visits, special offers, competitions and lots more!
Hamleys - Bringing Toys to Life!