Every day is a magical day at Hamleys
By regularly visiting our Manchester Store page you'll never miss any of the action!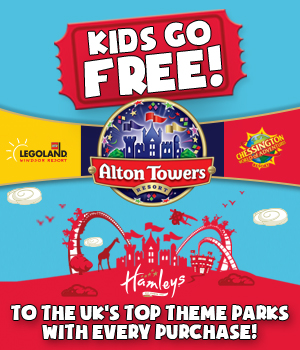 KIDS GO FREE TO THE UK'S TOP THEME PARKS!
Hamleys have partnered with the UK's top theme parks to give every customer a FREE child's ticket to either Alton Towers Resort, Chessington World of Adventure Resort or LEGOLAND Windsor Resort! That's right, you can buy a toy, a teddy bear or even scrumpalicious sweets, it doesn't matter! Any time you make a purchase you will receive a special voucher attached to your till receipt that can be used at any one of these incredible attractions! It's so simple…so why not join in the fun and make sure your KIDS GO FREE!
Plus…KIDS STAY FREE at Alton Towers Resort Hotel with every spend over £50! T&C's apply.
© Merlin Entertainments 2017
Star Wars Weekend at Hamleys!
Date: Saturday 6th & Sunday 7th May
Time: TBC
In a Toy Shop not so far far away…
Come and join us as we dedicate an entire weekend to all things Star Wars!
With incredible photo opportunities, a chance to chase radio controlled BB-8 around the shop, test our brand new Bladebuilder Lightsabers and surprise visits, you won't want to miss out!
Get dressed up as your favourite character to WIN amazing Star Wars prizes in store! Extra prizes for grownups that join in!
And if you're looking for a souvenir from the special day, there's up to 25% off Star Wars Toys! To keep up to date with information and timings for Hamleys Star Wars Weekend simply LIKE Hamleys on Facebook – search Hamleys plus your local city name!
May The Force Be With You!
Additional Information: All Hamleys customers should expect queues at free events; customers should arrive early to avoid disappointment. Queues will be cut to ensure the event finishes on time. Activity times and dates may vary. Standard Hamleys T&C's apply.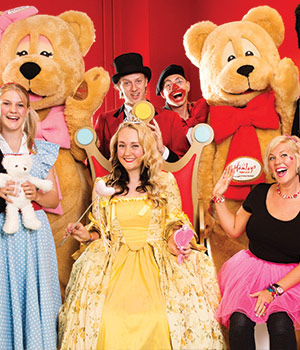 Book your Hamleys Birthday Party Online!
Date: Coming Soon
Where: Hamleys Manchester!
Very soon you will be able to book your little one's Hamleys Birthday Party using our brand new online booking service.
More information will be available soon – keep an eye on your local toy shop's Facebook page or sign up to our newsletter to receive an update first! Sign up here!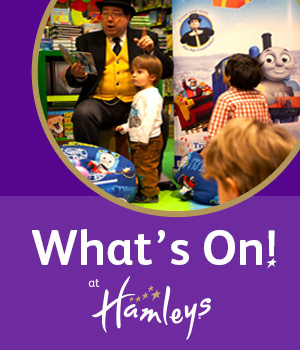 Hamleys on Facebook!
Date: Keep up to date Every Day!
Time: LIKE us today!
Where: Online!
We are always having a great time at the Finest Toy Shop in the World! To make sure you don't miss out on the fun, magic and theatre join us on Facebook by clicking on the link below and LIKE your local page. This means you will never miss out on special events, character visits, special offers, competitions and lots more!
Hamleys - Bringing Toys to Life!