Every day is a magical day at Hamleys
By regularly visiting our Regent Street Store page you'll never miss any of the action!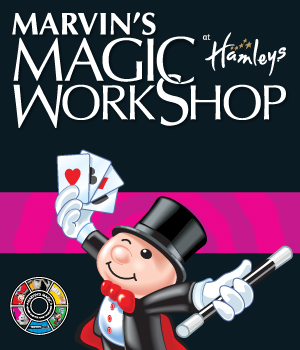 Join in the fun at Hamleys this Summer for a Magical Mind-Blowing Workshop! This exclusive, interactive introduction to the Wonderful World of Magic will help you to learn and perform incredible magic tricks that are sure to amaze all who see!
Take your very own magical journey to get a "Behind The Scenes" look into the magic that has been delighting guests in Hamleys for over 30 Years!
Learn AMAZING tricks that can be performed anytime, anywhere!
Get magical hints and tips from professionals to MAXIMISE your performance!
Receive EXCLUSIVE free goodies that will give you the knowledge and the power to impress and amaze everyone around you!
There's a little bit of magic in all of us, book now here to unleash yours!
Meet Father Christmas at Hamleys!
Jingle all the way to the Finest Toy Shop in the World to join Father Christmas and his loveable elves for fun, magic and theatre at this very special time of year. Meet Father Christmas at Hamleys is an extra special experience where children will take part in seasonal games and activities, spend time with Father Christmas and receive an extra special gift bag to take home.
If you're subscribed to our newsletter you'll have the chance to get priority booking before the general public! So why wait? Sign up here so you don't miss out!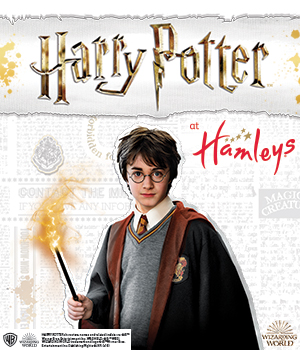 Harry Potter at Hamleys!
Date: Thursday 19th July 2018
Calling all Witches and Wizards! Harry Potter is arriving at Hamleys on Regent Street! Our new Harry Potter area on our Lower Ground Floor will offer one of the largest assortments of Harry Potter products in the UK, mesmerising Toy Demonstrations, Photo Opportunities, Competitions and a Flying Golden Snitch! Be one of the first to join in the Fun, Magic and Theatre at the Finest Toy Shop in the World with Harry Potter at Hamleys. It truly is a must see this summer!
Join us from Thursday 19th July and enter the Wizarding World of Harry Potter!
#HarryPotteratHamleys
Exclusive Shopping Experience for Emergency Services & NHS!
Where: Hamleys Regent Street (Closed Door Event)
When: Sunday 26th August, 10am – 12noon
With Entertainment, Toy Demonstrations, Magic Shows, Face Painting, Hamley Bear and 35% OFF TOYS TOYS TOYS! This is a summer extravaganza not to be missed! You have the keys to the Finest Toy Shop in the World so why not join in the fun, magic and theatre on Sunday 26th August 2018 from 10am – 12noon, at Hamleys Toy Shop, 188-196 Regent Street, London, W1B 5BT.
We'd love you to get dressed up too! We will be giving prizes away for the best kids, adults and family costumes on the day!
To gain entry please arrive at the entrance to the store and show a member of staff the event poster on your phone or your identification/membership ID as proof you work for the Emergency Services/NHS or are part of an affiliated organisation/club.
To keep up to date with information about this event please LIKE Hamleys Regent Street on Facebook.
Terms and Conditions: This voucher, when presented at the till in Hamleys, entitles the holder to £35% on eligible purchases. Coupon is redeemable at Hamleys Regent Street on the event day only. This voucher can be used in conjunction with other promotion, including sales, discounts, or other price reductions, excluding current offers on LEGO products – maximum LEGO discount 35%. Only one voucher may be used per transaction. This offer is valid on the event day only. This offer can be withdrawn at any time. No use on Gift Voucher purchases. Offer in store only.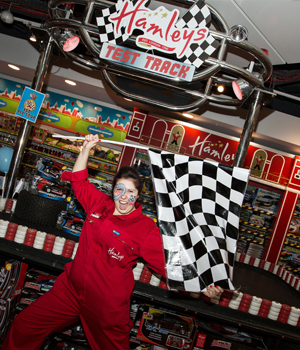 The Turbo Tumbler Battle Arena!
When and Where: Every day on the ground and 4th floors
Battle it out with your friends in the Super Turbo Battle arenas in store. We have two in store so come find your arena on either the ground or 4th floor.
To make sure you have the advantage against your friend here's a quick tip for you to perform wheelies: Run the car quickly forwards, and then suddenly reverse it. At the same time give a quick flick of the front wheels to the left or right. The car will flip back onto its small back wheel and will do wheelies in the air.
We hope to see you at the Turbo Tumbler Battle Arenas soon! #Hamleys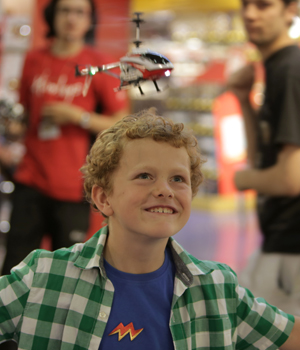 Watch a Drone Take Flight!
When and Where: Every day on the 4th floor
Is it a bird? Is it a plane? No, it's a Hamleys drone!
We have an amazing crew of experienced drone pilots in store demonstrating all the amazing skills and tricks they are capable of as they take to the skies of the 4th floor!
So, come and witness these awesome stunts take place! And if you ask nicely, they may even give you a few tips as to how you can do them yourself at home so you can become your very own master drone pilot.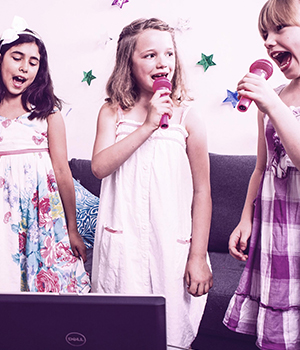 Karaoke Machine In Store!
When and Where: Every day on the 2nd Floor
Yes, that's right, we do have a Lucky Voice karaoke machine in store waiting for you to come and sing your heart out. Whether you're the next Elsa in the making and ready to LET IT GO, or the next big boyband, this is your moment!
The Finest Toy Shop in the World has never heard a voice like yours so come along today, take the mic and show the world what you've got!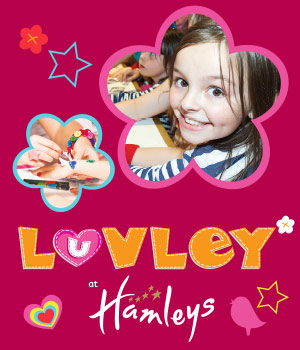 Have a Luvley Day!
When and Where: Every day on the 2nd floor!
Have A Luvley Day at the Finest Toy Shop in the World!
Get involved in our exciting Luvley Boutique activities! Take part in one of our Glittertastic demonstrations, nail art, nail stamping and glittery body art. Strut down Regent Street and show everybody your best pose now you've been Luvleyfied!!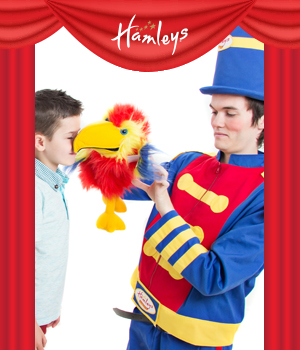 Unmissable Puppet Shows!
When and Where: Every day on the ground floor
Did you know that Hamleys have a daily puppet show?
Well you do now!
Come and visit our two most popular puppet shows every day at 12:30pm and 5pm.
Follow the adventures of Superchimp the craziest, cuddliest superhero in Hamleys Regent Street! Wouldn't it be great to be a superhero? It's a shame they don't really exist…until now! And help Owlbert's find the Lost Letter: A young student who dreams of being a great wizard meets a magic owl called Owlbert. Owlbert has a very special delivery – if only he could find the letter!
These are definitely not ones to be missed! Come to Hamleys today and witness a puppet show like no other.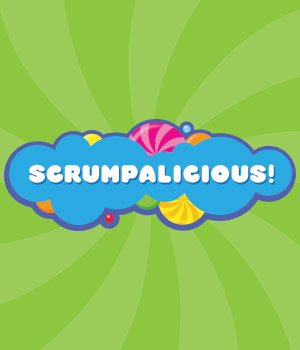 Enjoy Scrumpalicious Snacks!
When and Where: Every day on the 5th Floor
Make sure you visit the 5th floor of the finest toy shop in the world where you'll find our Scrumpalicious Snack Shop filled with all the wonderful snacks you could imagine! Head to Shaketastic for award winning shake's and smoothies! That's all we sell, so they have to be the best, right?! Or if you want to see some sweets being made to store, go over to Spun Candy and witness their creations. If that's not enough, you can visit Wafflemeister on the ground floor by the entrance for the best waffles in the world! "It's Time to Get Your waffle on"
Sit back, relax and enjoy!See you soon!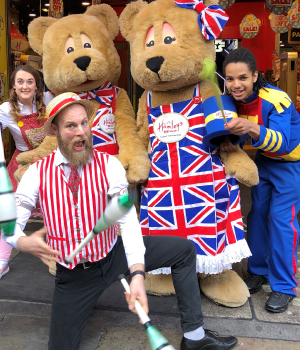 Hamleys Daily Grand Opening!
Date: Monday - Friday 10:00; Saturday - 9:30am; Sunday - 12:00
How would you like to help Hamley and Hattie Bear open the most famous toy shop in the World? Every morning you can meet our loveable, huggable bears and join in the fun as we countdown to our grand opening! Don't forget to take a selfie with Hamley and Hattie and share on social media with #Hamleys!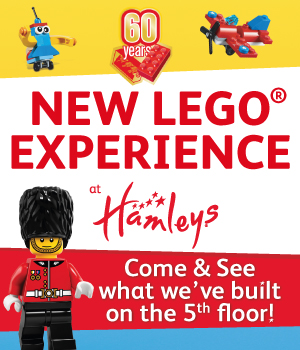 New LEGO Experience at Hamleys!
To celebrate the 60th anniversary of the iconic LEGO brick, Hamleys and LEGO have built a brand new hangout for families and children on the 5th floor of our Regent Street store. Customers will be welcomed into the newly refurbished area by LEGO brick built Royal Guards. Children are free to explore, build, create and get hands on while surrounded by an extravaganza of building brick bustle! New features include:
A hunt to find the LEGO crown jewels with the eminent Sherlock Holmes
Upscaled LEGO London themed brick built models
Minifigure Me! A new high-tech device that scans you, and figure out which LEGO Minifigure you are
A London park themed playground that offers families an opportunity to build LEGO together
Bundles of exciting LEGO product
Build, Make and Create at our brand new LEGO Build Stations
*Additional Information: * 20% off promotion is on selected lines only, while stocks last. Standard Hamleys T&C's apply.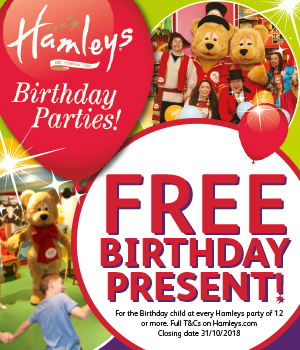 Book your Hamleys Birthday Party and receive a FREE present worth £75!
Date: 1st – 31st October 2018
Where: Hamleys Regent Street
You can now book your little one's Hamleys Birthday Party using our brand new online booking service. Book now here!
Hosted by the Hamleys Entertainers, our special guests will enjoy an action packed time including activities, games & lots of fun. From treasure hunts and arts & crafts to dancing and party games, the birthday child and their friends will get to enjoy a truly magical experience. Each child will even get to take away a gift bag exclusive to Hamleys.
PLUS if you book your magical birthday party from 1st – 31st October 2018, you get a FREE present for the birthday child worth up to £75!*
*For the birthday child at every Hamleys Party of twelve children or more, booked before 31/10/2018. Terms and conditions apply, ask in store for more details.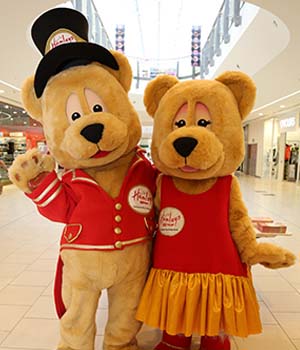 Hamley & Hattie Bear Meet & Greet!
Date: Every day!
Time: 12pm, 3pm, 4pm
Come in every day for a chance to meet our loveable Hamley or Hattie bear! Don't forget when you find them to take a selfie and share on social media with #hamleys!
Join in the fun & high fives with everyone's favourite bear!
Additional Information: All Hamleys customers should expect queues at free events; customers should arrive early to avoid disappointment. Queues will be cut to ensure the event finishes on time. Activity times and dates may vary. Standard Hamleys T&C's apply.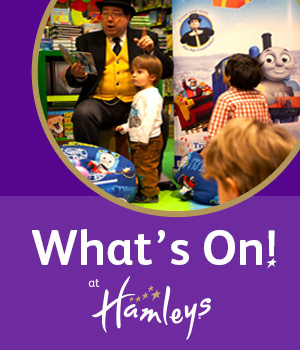 Hamleys on Facebook!
Date: Keep up to date Every Day!
Time: LIKE us today!
Where: Online!
We are always having a great time at the Finest Toy Shop in the World! To make sure you don't miss out on the fun, magic and theatre join us on Facebook by clicking on the link below and LIKE your local page. This means you will never miss out on special events, character visits, special offers, competitions and lots more!
Hamleys - Bringing Toys to Life!