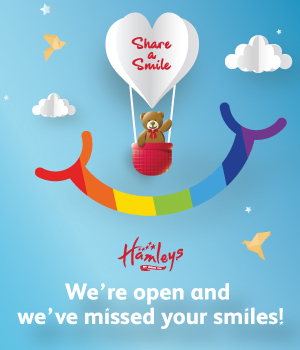 We're open and we've missed your smiles
The Finest Toy Shop in the World is now open and we're so excited to Share a Smile with you once again! At Hamleys, we create magical memories, share special moments, hear laughter and see smiles, but our priority remains the safety and wellbeing of our customers and colleagues. We know that our world is better with you and by following all government safety guidance we've now made it safer for you:
You might have to queue up: Our stores will have a reduced capacity in order to support two metre social distancing; therefore, you may be asked to queue before entering.
Demonstration and entertainment with social distancing: The beating heart of Hamleys - our experience and demo team will keep bringing toys and storytelling to life while ensuring social distancing is adhered to by using clear markings and signage.
There is a map with directions on the floor: Seriously! While we may request you to follow a one-way system to support the flow of customers in the store, there is no harm in making it a fun game – you never know it might lead you to a lost treasure.
No hugs for a while but let's wave and smile: Hamleys staff will still deliver exceptional customer service but maintain a two-metre distance. The staff might also look different in their new Protective equipment including gloves and face-coverings.
We have taken a full wash: Prior to opening, all stores have been cleaned thoroughly and staff briefed on the importance of increased cleanliness and hygiene. Hand sanitiser is available in all sites.
We also built a castle: Protective barriers have been installed at till points and where possible, we would like to encourage customers to use contactless payments.
If it's not Hamleys Safe – it's not there: Where social distancing guidelines cannot be followed in full, we will cease this activity until it can be carried out safely.