What's on at Hamleys
Check out what fun activities are happening at your local Hamleys Toy Shop...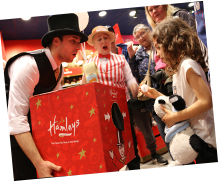 A Magical World
If you're planning a trip to one of our Toy Shops why not check what's on that week. Every day is a magical day at Hamleys! Join in the fun with our Experience Team as we Bring Toys to Life!
See What's on at your local store!