Competitions!
At Hamleys, we love toys and games so much that sometimes we just want to give them away!
WIN A VIP TRIP TO HAMLEYS CHRISTMAS TOY PARADE ON REGENT STREET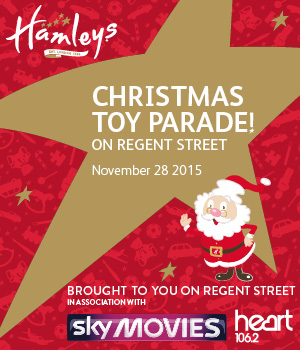 Last Call for Entries: CLOSED
On Saturday November 28th 2015 Hamleys, the finest toy shop in the world, is bringing the magic of Christmas to London's Regent Street in a traffic free, all-day extravaganza including the biggest toy parade London has ever seen, followed by on street meet and greet of your favourite toy characters and a finale with a special guest!
To celebrate Hamleys, in association with Sky Movies, is offering a family of four the chance to attend this spectacular event as part of a very special VIP parade package.
To enter fill in the FREE competition entry form.
Prize package consist of travel for a family of four to be at the parade on November 28th 2015, the Hamleys Top 10 Toys for Christmas, Sky TV free for a year, a "Meet Father Christmas" experience in store, a 5* overnight hotel stay at the Athenaeum hotel, and a £500 Regent Street Gift Card.
There are also 8 runner up prizes of the Hamleys Top 10 Toys for Christmas and Sky TV free for a year.
For full details please see the Terms and Conditions
Terms & Conditions:
Please read these terms and conditions carefully and make sure you understand them.
How to Participate
1. These terms and conditions ("Terms and Conditions") apply to the Hamleys, Win a VIP Trip to Hamleys Christmas Toy Parade on Regent Street, Competition (the "Promotion").
2. The Promoter is: Hamleys of London Limited registered at 2 Fouberts Place W1F 7PA. Company Registration Number 02287862 ("the Promoter").
3. To enter this Promotion, entrants must visit Hamleys website (at www.hamleys.com/competitions) and click on the "Win a VIP Trip to Hamleys Christmas Toy Parade on Regent Street" Competition and enter their details ("the Entrant").
4. Entrants will need access to the internet.
5. The Promotion is free to enter and no purchase of any kind is necessary.
Restrictions
6. This Promotion is open only to all UK (excluding Northern Ireland) and Rep. Ireland residents aged 18 and over at the date of entry. Proof of age and any proof of UK (excluding Northern Ireland) or Rep. of Ireland residency may be required.
7. Parental consent and/or assistance and the permission of the bill payer is required to enter the Promotion online at www.hamleys.com where you will submit your name, address and email, phone number, opt in permissions and details as requested.
8. Only one entry per household is permitted and will only be eligible to win 1 (one) prize or runner up prize per household.
9. The Promotion is not open to employees (or family members of employees) of the Promoter, SKY UK LIMITED ("Sky"), companies or those associated with the Promotion and all affiliates of such companies. The Promoter reserves the right to verify the eligibility of Entrants in its sole and absolute discretion.
10. The Promoter will not be liable for entries which are not received or which are incomplete, corrupt or delayed for any reason.
11. Entries must not be sent in through agents or third parties. Incomplete, inappropriate, indecent, illegal, fraudulent or corrupt entries or those not in accordance with these Terms and Conditions will be disqualified and may be removed.
12. The Promoter accepts no responsibility for any damage, loss, liabilities, personal injury, death or disappointment incurred or suffered by the Entrant or his/her family or accompanying companions as a result of entering the Promotion or accepting the prize. Nothing in these Terms and Conditions shall exclude the liability of the Promoter for death, personal injury, fraud or fraudulent misrepresentation as a result of its negligence.
Opening and Closing Dates
13. This Promotion opens on 23rd October 2015 and closes on midday on 20th November 2015. Entries made before or after these dates and times shall not be eligible.
The Prize
14. There will be one winner ("the Winner").
15. The Winner will win:

a) Travel (up to the value of £1,000), to be arranged by the Promoter for a family of four to be at the parade on November 28th 2015,
b) The Hamleys Top 10 Toys for Christmas as chosen by Hamleys,
c) Sky TV free for a year (see the Sky Prize Conditions below),

d) A "Meet Father Christmas" experience in a store to be arranged dependent on availability,
e) A 5* overnight hotel stay at the Athenaeum hotel to include breakfast or equivalent hotel, and
f) A £500 Regent Street Gift Card.
("the Prize")
16. There are 8 runner up prizes ("Runner Up") and each Runner Up will win:
a) The Hamleys Top 10 Toys for Christmas as chosen by Hamleys; and
b) Sky TV free for a year (see the Sky Prize Conditions below).
("Runner Up Prize")
Collectively ("the Winners")
17. The "Promotion" is promoted at Hamleys locations: Glasgow, Manchester, Cardiff, Lakeside, Dundrum, York, Ashford, London Regent Street, Hamleys.com and Hamleys Social Media channels.
18. The Promoter reserves the right to substitute the Prize and/or the Runner Up Prize for items of equivalent value. The Prize and Runner Up Prize is non-transferable and no cash alternative is available.
Notifications
19. The Winners will be drawn at random from all valid entries received and the Promoter's decision is final. The Winners will be notified by email/phone on 20th November 2015.
20. In order to claim the Prize or Runner Up Prizes, the Winners must respond appropriately to the Promoters email/Phone calls within 24 hours from the date of the Promoters notification email, and provide their full name, date of birth, postal address and telephone number.
21. If Winners cannot be contacted within 24 hours of the notification, the Promoter reserves the right at its absolute discretion to withdraw prize entitlement, re-draw the prize and award the prize to a substitute winner.
22. The Winners names and county will be available six weeks after the closing date by sending an email to marketing@hamleys.co.uk by 23:59 on 15 January 2016.
Data Protection
23. These Terms and Conditions should be read in conjunction with the Promoter's Privacy Policy (available here) which explains how the Promoter will collect and process your personal information in accordance with the Data Protection Act 1998. By entering the Promotion, the Entrant also agrees to their personal information being distributed to Sky in order that Sky can contact the Winners independently about the Sky Prize (defined below).
Acceptance
24. The Promoter reserves the right to disqualify from the Promotion any Entrant suspected of fraud or cheating including, without limitation, through the manipulation of codes, multiple computer generated entries, or otherwise in our opinion fraudulently falsifying data or acting fraudulently or dishonestly.
25. The Promoter cannot accept liability for any system failures, network errors, website unavailability, hacks on the system, personal computer issues or any other issue out of our reasonable control.
26. The Promoter shall not be liable for any failure to comply with its obligations where the failure is caused by something outside its reasonable control. Such circumstances shall include, but not be limited to, weather conditions, fire, flood, hurricane, strike, industrial dispute, war, hostilities, political unrest, riots, civil commotion, inevitable accidents, supervening legislation, technical and computer faults, system failures, network errors, website unavailability, hacks on the system, personal computer issues, failures and malfunctions or any other circumstances amounting to force majeure or any other issue out of our reasonable control.
27. All Entrants accept that the Promoter reserves the right at its sole discretion to cancel, terminate, modify or suspend the Promotion and Prize, without notice and liability to any Entrant.
28. Each Entrant grants to the Promoter a worldwide, non - exclusive, royalty free licence to use the Entrant's name, image and any other details used in their entry for promotional purposes related to any of the Promoter's products and/or services and for all the purposes related to the Promotion, for the legal duration of intellectual property protection of such entries, across all media including any online platforms under the promoters control, the Promoters websites(s) and social media sites.
29. The Winner and Runners Up agree that the Promoter may use their name and country of residence in any promotional materials, anywhere in the world, for a period of up to one year from the date the prize is sent to the Winner and/or Runner Up. Such promotional materials may be in any media (e.g. internet, and in particular Hamleys website, press, posters or radio) and in any medium (e.g. print, poster, press, online media such as banner ads and mailings, audio visual advertising) in connection with the Promotion, without a winner obtaining further reference, payment or compensation.
30. The Promoter's decision is final (including any not covered by these Terms and Conditions) and no correspondence will be entered into regarding the outcome of the prizes awarded.
31. To the extent permitted by law these Terms shall be construed and interpreted with the laws of England and Wales.
Additional Terms and Conditions for FREE SKY TV for a Year ("the Sky Prize")
32. Sky's Complete Bundle package consists of:

- Sky+HD box
- Free standard installation provided by Sky subject to the Sky Prize Conditions (as defined below);
- 1 x 12 month subscription to Sky's full TV Complete Bundle package

33. If you are a winner and are new to Sky TV you will be required to enter into three subscription contracts (Sky digital, Sky+ and Sky+HD subscriptions for the minimum term of 12 months). After your 12 months' free viewing, standard subscription charges will apply, unless you change your package, giving over 31 days' notice, you will pay the prevailing price for the Complete Bundle (currently £71.25 pm [in the UK and €83 pm in the Republic of Ireland]). Sky+ subscription is free while you subscribe to Sky TV (otherwise £10 pm in the UK). Sky selects your equipment. You must be over 18 and resident in the United Kingdom. Unless you are already a Sky+ subscriber you will need Sky+HD professionally set up, even if you already have a minidish. Costs apply for non-standard set-up. Your box must be connected to a fixed telephone line. You must get all consents required (e.g. landlord's). Sky Box Office Movies, Stand-alone Premium Channels, and pay-per-view services and events are not included in the Prize and must be paid for separately. Prices, programmes/channels are subject to change. Existing Sky TV customers will receive a free Complete Bundle subscription [and a free Sky+HD box]. Multiscreen is not included in the Sky Prize.
34. Sky will contact the winner to arrange installation of the Sky Prize. Winners must redeem the prize within 12 months. Winners who are in a current pay-TV contract with another provider may defer their Prize for a maximum of 12 months from the date of winning. If a winner does not redeem his/her Prize within 12 months from the date of winning, this could result in loss of the Sky Prize. If the winner has a previous uncleared debt with Sky the winner will not be able to take up the Sky Prize until this debt has been fully cleared.
35. There is no cash alternative to the Sky Prize or any element thereof and unless agreed otherwise in writing the Sky Prize is non-refundable and non-transferable.
36. Sky reserves the right to refuse or withdraw the Sky Prize if a winner or a party authorised by the winner to act on their behalf, threatens or abuses a Staff employee or otherwise conducts themselves in a manner that Sky reasonably regards as inappropriate, offensive or unlawful.
(the "Sky Prize Conditions")
Marketing
37. By entering this Promotion and choosing to opt-in to receive more information, you agree that Sky may use your information to contact you about products and services you may like. You can change your direct marketing preferences by contacting Sky on 08442 41 41 41. You can also click on the "unsubscribe" link in direct marketing emails from Sky.
Win a VIP West End weekend with Hamleys and ELF The Musical!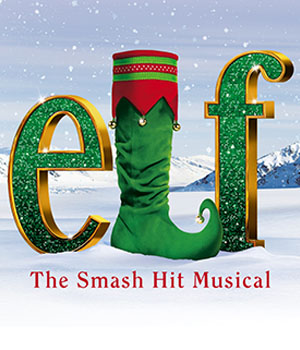 Last Call for Entries: Closed
ELF is the hilarious tale of Buddy, a young orphan who mistakenly crawls into Santa's bag of gifts and is transported to the North Pole. However, his enormous size and poor toy-making abilities cause him to face the truth. He embarks on a journey to New York City to find his father, discover his true identity, and help New York remember the true meaning of Christmas.
Based on the beloved 2003 cinema hit, ELF stars Ben Forster as Buddy and Kimberley Walsh as Jovie and features songs by Tony Award nominees Matthew Sklar and Chad Beguelin (The Wedding Singer).
ELF The Musical is in London for 10 weeks only, showing at the Dominion Theatre from 24 October 2015 – 2 January 2016, and to celebrate Hamleys has an exclusive VIP prize to give away for one lucky customer!
Prize: A family ticket of 4 to ELF The Musical at London's Dominion Theatre. Champagne during the interval. Souvenir programme. An overnight stay at the historic and vibrant 18th century Bloomsbury Hotel with afternoon tea with in Lutyens Lounge and a la carte breakfast in Landseer Restaurant. A VIP tour of Hamley's with £150 worth of Hamleys vouchers.
For your chance to WIN this prize simply answer the following question.
Question:
Which theatre is ELF The Musical playing at?
CLOSED
Terms & Conditions: The prize includes four £73.20 tickets to Elf The Musical at the Dominion Theatre, London for performances until January 2, 2016, with a souvenir programme and two interval drinks of wine, beer or soft drinks at the theatre. It also includes a one-night stay with breakfast plus afternoon tea for two people at the Bloomsbury Hotel, plus £150 worth of Hamleys vouchers and a VIP tour of the store for the winner. A contribution of up to £200 is included for travel to London. Winners are responsible for any extra charges incurred whilst redeeming the prize in addition to those covered by the prize funds above. All prize elements are subject to availability and are non-transferable. No cash alternative is available.
All elements of the prize must be redeemed on the same trip. The producers of Elf The Musical cannot guarantee the appearance of any particular artist, which is always subject to illness and holidays. The competition promoter is Hamleys of London Limited. The competition will run from 13th October 2015 to 8th November 2015 and the winner will be picked and contacted within 1 week of the closing date. The competition is restricted to residents of the United Kingdom, the Channel Islands and the Isle of Man, excluding employees of ELF The Musical (Uk) Ltd, Dewynters Ltd, Hamleys of London Ltd, their immediate families, their agents or anyone professionally connected to the competition. The Promoter reserves the right to vary the Terms and Conditions or cancel the draw at any stage in the event or offer an alternative prize to the same value in circumstances arising beyond its reasonable control. The entrant(s) must be aged 18 and over and proof of identity may be required.