Every day is a magical day at Hamleys
By regularly visiting our Cardiff Store page you'll never miss any of the action!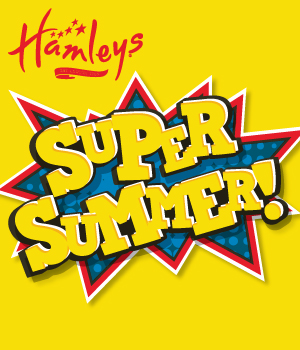 It's a Super Summer at Hamleys!
Date: 4th July 2018 – 7th September 2018
Time: 12 - 4pm Wednesday to Sunday
Join the magic and theatre at Hamleys this Summer and experience super games and activities like no other.
Meet Hamley Bear!
Super In-Store Competitions and Giveaways!
Photo Opportunities In-Store!
This isn't just your typical summer in a toy store, it's a #SuperHamleys summer and we want you to be involved! Remember each week there's a different theme for our activities so come along and try them all!
If you are you visiting Hamleys in the near future be sure to keep your eyes peeled for a very special Golden Ticket!
Hamleys Teams around the country will be giving out Golden Tickets which will grant each customer £5 off a £30 spend in store! The only way to receive this exclusive discount is by picking up a Golden Ticket at your local Hamleys Toy Shop. So why not plan a trip to Hamleys and SAVE while you join in the Fun, Magic and Theatre at the Finest Toy Shop in the World!
Additional Information: This voucher, when presented at the till in Hamleys, entitles the holder to £5 off when you spend £30 on eligible purchases. Coupon is redeemable at Hamleys Cardiff, Glasgow, Manchester Trafford Centre, Intu Lakeside, Jenners Edinburgh, Hull, Livingston, Street Somerset, Swindon, Wembley, Birmingham, London Bridge, St.Pancras, Stansted, Heathrow and Gatwick on eligible dates. This voucher can be used in conjunction with any other promotion, including sales, discounts, or other price reductions. Only one voucher may be used per transaction. This offer is valid between 18/04/18 to 31/12/18. This offer can be withdrawn at any time. No use on Gift Voucher purchases. Offer in store only.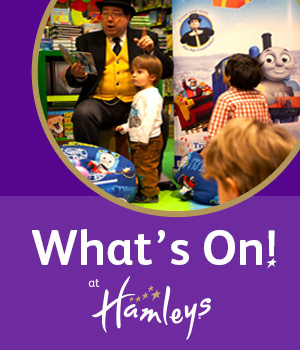 Hamleys on Facebook!
Date: Keep up to date Every Day!
Time: LIKE us today!
Where: Online!
We are always having a great time at the Finest Toy Shop in the World! To make sure you don't miss out on the fun, magic and theatre join us on Facebook by clicking on the link below and LIKE your local page. This means you will never miss out on special events, character visits, special offers, competitions and lots more!
Hamleys - Bringing Toys to Life!