Every day is a magical day at Hamleys
By regularly visiting our Cardiff Store page you'll never miss any of the action!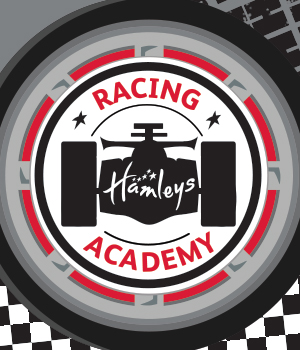 Hamleys Racing Academy!
Date: All year round!
Time: Varies!
Where: Shop Floor!
Come and join the Hamleys Racing Mechanics in a host of FREE activities throughout the year, where you can try your hand at racing some of the fastest remote control cars around! Take part in the Hamleys Grand Prix, Beat the Best and the Hamleys Wall Racer time trial and more!
So fuel your cars, test your oil levels and start your engines and put the pedal to the metal as you become part of the Hamleys Racing Academy.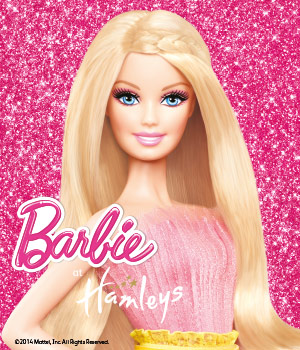 Meet Barbie at Hamleys Cardiff!
Date: Saturday 13th September 2014
Time: 12.30 pm, 1.30 pm, 2.30 pm, 3.30 pm
Where: Shop Floor
It's every Barbie fans' dream to meet their favourite doll in real life! Hamleys are giving you the opportunity of a lifetime to do just that! Come and meet Barbie right here in store!
Barbie will be available for photographs in-store. Venture Photography will be on hand to take professional pics. All pictures are FREE and will be posted on the Hamleys Cardiff Facebook page. Feel free to take your own photos as well!
*Barbie will not be available to meet fans beyond 4pm. If the event is busy Hamleys will cut the queue to ensure it finishes at 4pm.* **Each session with Barbie will last for 30 minutes.
Thomas & Friends™ Movie Screening!
Date: Saturday 20th September 2014
Time: 11.00am – 4.00pm
Where: Shop Floor
To celebrate the release of the new Thomas & Friends movie brand new movie Thomas & Friends™ 'Tale of the Brave' on DVD we are giving you the chance to see it at the Finest Toy Shop in the World! Join the Hamleys Entertainment Team for fun, arts and crafts and even some scrumptious popcorn. It's all completely free so grab your friends and join us!
Screening will be taking place at the following times:
Thomas and his friends face their fears in their boldest adventure yet! After a monstrous storm on the Island of Sodor, a landslide unearths some very unusual footprints. Thomas and Percy are eager to find out what could have made these marks but obstacles and danger seem to appear around every bend in the track. With the help of new friends, a little digging, and a heap of courage, they discover the surprising answer and, along the way, uncover the true meaning of bravery.
*No booking necessary. Places will be given on a first come first served basis. Screenings will take place in the Hamleys Party Room.*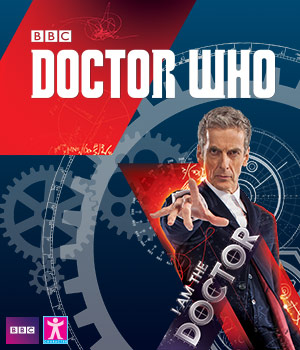 Exclusive Doctor Who Poster Give Away!
Date: Saturday 27th September 2014
Time: All Day
Where: Shop Floor
ATTENTION Doctor Who fans!! As the Time Lord has returned to our screens, Hamleys is celebrating with an exclusive Doctor Who Collector's poster event! We have 250 Limited Edition Posters to give to some lucky fans! These are so exclusive that your poster will be the only one of its kind in the world…just like the Doctor himself! Each poster is numbered and a true collector's item.
Head in store to pick up your poster which is the first and only that details the entire collection of 3.75-inch action figures to date.
Be on the lookout for the Special Sets and ultra-rare figures such as the Black Dalek or Transparent Angel!
If you are a fan of Doctor Who, then this is an opportunity that you do not want to miss out on. We also have 25 goody bags to giveaway per store for super fans who come dressed as a Doctor Who! Only the best dressed will be eligible so good luck! To get your hands on these unique posters come in store and purchase any Doctor Who toy!
Additional information: We will be giving one limited edition poster to anyone that purchases any Doctor Who toy. There is no minimum spend. One poster will be distributed per transaction. Posters are subject to availability and can only be redeemed when a Doctor Who toy has been purchased. Posters are numbered 1 – 250. We cannot guarantee a specific number to anyone. Posters will be distributed on a first come first served basis. Customers will not receive a poster for any toy purchased prior to the date stated above. Poster cannot be purchased separately. Posters are exclusive to Hamleys Toy Shops in the UK and Ireland.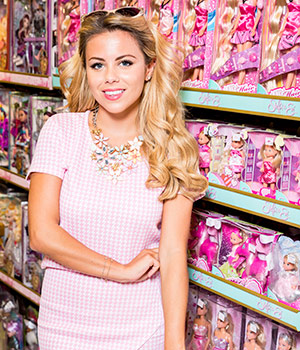 Have a Real Good Time with Steffi!
Date: Saturday 4th October 2014
Time: 2.00pm – 5.00pm
Where: Shop Floor
To celebrate the release of Steffi's new hit single 'Real Good Time', we have an extra special LIVE performance at Hamleys! Not only that but you will also have a chance to meet Steffi, get an autograph and have your photograph taken! Steffi will be performing and meeting fans in Hamleys at the following times:
2.00pm – 2.45pm, 3.00pm – 3.45pm, 4.00pm – 5.00pm
It gets even better for Steffi fans as all Steffi dolls will have a discount of 50% off for the entire weekend! Make sure you come along and take advantage of this incredible offer! You can also Win a place at Steffi's Dream Sleepover at your Hamleys Toy Shop. For further information and to find out how to join us for this once in a life time experience visit our COMPETITIONS page.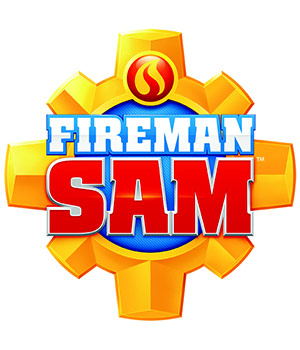 Meet Fireman Sam!
Date: Tuesday 28th October 2014
Time: 12.00 - 4.00pm
Where: Shop Floor
Fireman Sam is coming to meet all of his fans at Hamleys Cardiff! This event is completely FREE! Make sure you don't miss out!
*Additional information: All customers should expect queues at this event. Please arrive early to avoid disappointment. Queues will be cut to ensure the event finishes at the time stated above. Activities are created to suit a wide age range, although some activities may only be suitable for certain age groups.*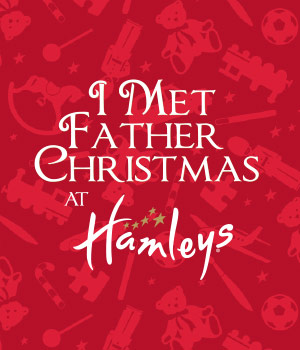 Meet Father Christmas at Hamleys!
Date: 1st December – 24th December 2014
Time: Varies
Where: Hamleys Party Room!
Join Father Christmas and his lovable elves at The Finest Toy Shop in the World! for fun, magic and theatre at this very special time of year. I Met Father Christmas at Hamleys! is an extra special experience where children will enjoy up to 1 hour with Father Christmas, take part in seasonal activities, enjoy delicious snacks and receive a special gift bag from Father Christmas to take home.
During this group session each little guest will hear magical stories of Christmas, sing festive songs, enjoy Christmas games and activities, write their own Christmas wish list and enjoy special time with Father Christmas himself all surrounded by the finest toys in the world!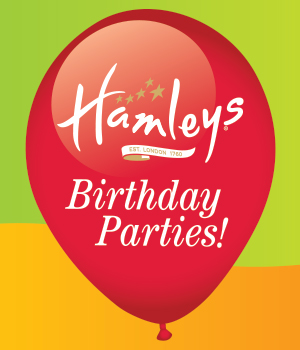 Have a Hamleys Birthday Party!
Date: Your Birthday!
Time: Party Time!
Where: Hamleys Party Room!
This year why not treat your little one to their dream Party at the The Finest Toy Shop in the World!
Choose from a range of Party themes including Pirate and Princess, Super Heroes, Teddy bears Picnic and much more. The fun, magic and theatre begins as soon as you walk through our doors as you are joined by the Hamleys Entertainment Team for a fun filled Party!
For more information on each of the different parties and how to book Click here