Every day is a magical day at Hamleys
By regularly visiting our Regent Street Store page you'll never miss any of the action!
Exclusive Camp Beaumont offer!
Date: Everyday
Time: All Day
Where: In Store
Hamleys have teamed up with Camp Beaumont to offer Hamleys kids an EXCLUSIVE DEAL!
50% off a seven-night Multi Activity camp with a free holiday camp kit for each child. All you need to do is quote Hamleys50 when booking either online or via the phone. Call us today on 0800 655 6560 or enquire on line at www.campbeaumont.co.uk/hamleys, where you can also find the deal terms and conditions.
Terms and conditions - Bookings must be made and confirmed before 5pm on Wednesday 1st September 2014. Offers cannot be used retrospectively or applied to existing bookings. Offers valid only on seven night multi-activity holidays. Activities, upgrades, special events and excursions subject to availability, age restrictions and camp location. We reserve the right to withdraw any offer without notice. All offers are subject to availability and cannot be used in conjunction with any other offer. A deposit of £40 per child per week will be required for all bookings. All bookings are subject to our standard booking conditions, a copy can be found on our website.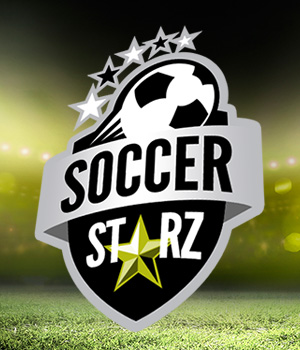 SoccerStarz!
Date: Everyday
Time: All day
Where: Basement
SoccerStarz are the smash-hit football collectable taking playgrounds by storm! These highly sought-after miniature collectables are every football fans must have accessory.
Individually hand sculpted & painted to deliver a truly captivating player resemblance, SoccerStarz are officially licensed & endorsed by the World's leading club sides & National Teams.
Come and get your set today at Hamleys Regent Street.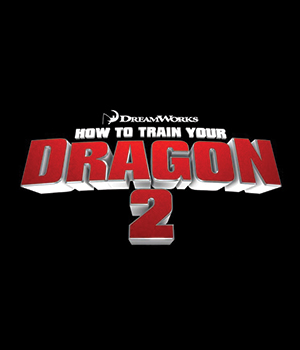 How to Train your Dragon 2!
Date: From 30th June 2014
Time: All Day
Where: Customer Services
Hamleys have teamed up with How to Train your Dragon 2 to give our customers a free mini puzzle. All you will need to do is download the voucher and bring into our customer services department, in Hamleys Regent Street where you will receive your puzzle.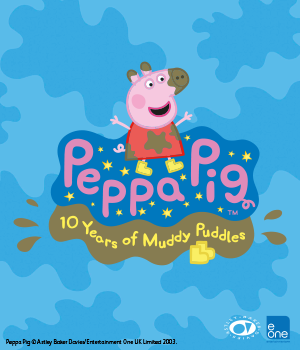 Win Tickets to Peppa Pig World!
To celebrate 10 Years of Muddy Puddles and our Peppa Pig themed window at Hamleys' Regent Street store, Hamleys have teamed up with Peppa Pig for a chance to win tickets to Peppa Pig World at Paultons Park.
First prize will be Peppa Pig World tickets for a family of 4 and a Peppa goody bag, with five runners up receiving a Peppa Pig goody bag containing:
Deluxe Playhouse Set
2 x Peppa books
Peppa musical instruments
Peppa Pig bag
Please go to the competitions page for your chance to win this fantastic prize!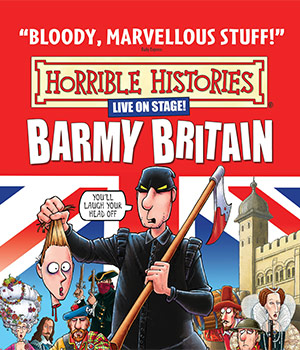 Save on Horrible Histories Tickets!
Date: Mondays and Fridays from 28th July 2014
Time: July-August
We all want to meet people from history. The trouble is everyone is dead! So it's time to prepare yourselves for Horrible Histories live on stage with the return of BARMY BRITAIN - PART TWO!
Can you beat battling Boudicca? Has William Wallace met his match? Can evil Elizabeth entertain England? Will King Charles keep his head? Escape the clutches of Burke and Hare and move to the groove with party Queen Victoria! Don't miss this horrible history of Britain with the nasty bits left in!
Save £5 on top price tickets to see Horrible Histories BARMY BRITAIN – PART TWO! To book tickets for just £15 (normally £20) call the box office on 0844 482 9673 and quote 'Hamleys 15' or book online www.barmybritain.com with promo code HAMLEYS15.
Toy Testing Workshop!
Date: Mondays and Fridays from 28th July 2014
Time: 12.30pm & 5.00pm
Where: 3rd Floor Party Room
What Hamleys products would you love to play with? Come to our toy testing workshops for your chance to have some fun.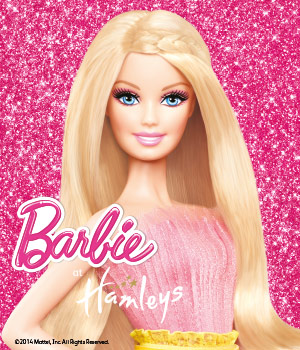 Barbie is visiting Hamleys Regent Street!
Date: Saturday 6th September 2014
Time: 1.00pm, 2.00pm, 3.00pm & 4.00pm.
Where: Third Floor Party Room
It's every Barbie fans' dream to meet their favourite doll in real life! Hamleys are giving you the opportunity of a lifetime to do just that! Come and meet Barbie right here at The Finest Toy Shop in the World!
Barbie will be available for photographs in the Hamleys Party Room, so come along and have your photo taken with Barbie.
Not only that but we are also giving you a once in a lifetime chance to have an exclusive Tea Party with Barbie in our exclusive Party Room! Visit our Competitions page to find out how you can join in the fun!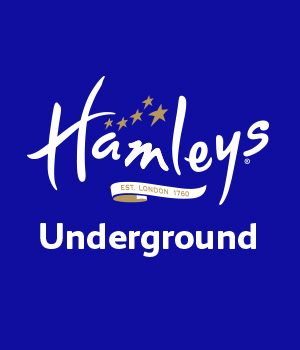 Hamleys Underground!
Date: Everyday
Time:
Where: Lower Ground Floor
Hamleys, The Finest Toy Shop in the World, unveils a new attraction for visitors to their London store on Regent Street.
The Hamleys Underground experience features themed games, kiosks and entertainment – all with iconic design elements from London's most famous transport system. Central to the attraction is the exclusive opportunity for families to have their very own picture taken in a real-life train driver's cab that entered service on the Underground in the 1970s.
It doesn't come more awesome (or more London) than that!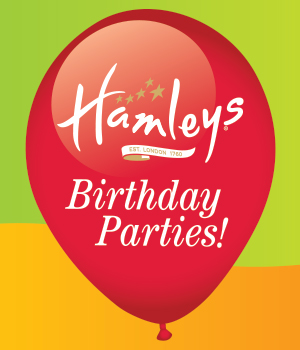 Have a Hamleys Birthday Party!
Date: Your Birthday!
Time: Party Time!
Where: Hamleys Party Room!
This year why not treat your little one to their dream Party at the The Finest Toy Shop in the World!
Choose from a range of Party themes including Pirate and Princess, Super Heroes, Teddy bears Picnic and much more. The fun, magic and theatre begins as soon as you walk through our doors as you are joined by the Hamleys Entertainment Team for a fun filled Party!
For more information on each of the different parties and how to book Click here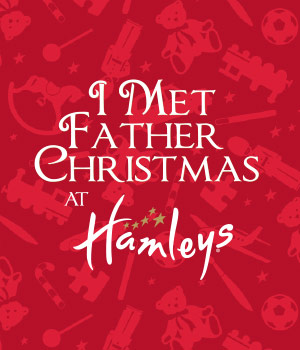 Meet Father Christmas at Hamleys!
Date: November and December
Time: All Day
Where: Hamleys Party Room!
Join in the magic this Christmas at Hamleys Regent Street, this December by having Breakfast, Brunch, Lunch, High Tea, Tea and Dinner with Father Christmas. Father Christmas Elves will welcome guests, making them feel extra special and entertaining them throughout.
Tickets will be going on sale in September, so please check back for the release date.