Every day is a magical day at Hamleys
By regularly visiting our Regent Street Store page you'll never miss any of the action!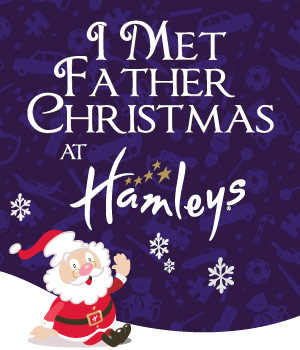 Meet Father Christmas at Hamleys!
Date: 21st November–24th December
Time: 9am-6:30pm
Where: Hamleys Party Room!
Join Father Christmas and his lovable elves at The Finest Toy Shop in the World! for fun, magic and theatre at this very special time of year. I Met Father Christmas at Hamleys! is an extra special experience where children will enjoy up to 1 hour with Father Christmas, take part in seasonal activities, enjoy delicious snacks and receive a special gift bag from Father Christmas to take home.
Each session is 1 hour long, sessions available on select dates.
Breakfast: 9am–10am (5th–24th December, except Sun)
Brunch: 10.30am-11.30am (5th–24th December, except Sun)
Lunch: 1pm-2pm (21st & 29th November, and 5th-24th December)
Tea: 2.30pm–3.30pm (21st, 22nd & 29th November, and 5th-24th December)
High Tea: 4pm–5pm (21st & 22nd November & 29th November–24th December)
Dinner: 5.30pm-6.30pm (21st November & 29th November–23rd December)
During this group session each little guest will hear magical stories of Christmas, sing festive songs, enjoy Christmas games, write their own Christmas wish list and enjoy special time with Father Christmas himself all surrounded by the finest toys in the world!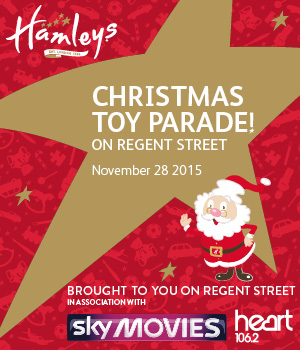 Hamleys Christmas Toy Parade at Regent Street!
Date: 28th November
Time: 10am-4pm
Where: Regent Street, London!
The finest toy shop in the world is bringing the magic of Christmas to London's Regent Street, brought to you by Sky Movies, in a traffic free all-day extravaganza!
The day will include the biggest toy parade London has ever seen, followed by on street meet and greet of your favourite toy characters and a finale with a special guest! With a cast of hundreds, marching bands, festive floating blimps, street theatre, dance crews, music from Heart, toy vehicles and a finale, Hamleys is literally bursting out onto Regent Street! Come and join us!
Keep checking Hamleys Christmas Toy Parade for more information and follow us on Facebook, Twitter and Instagram.
To be in with a chance of winning a VIP parade package for a family of four valued at over £2,500 click here.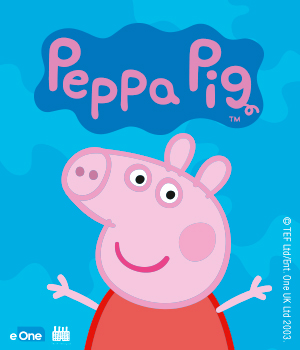 Meet Peppa Pig!
Date: Saturday 5th December
Time: 12:30pm – 4pm
Where: Hamleys Regent Street
To celebrate our new Peppa Pig are launch in store Hamleys Regent Street are giving you the chance to meet the character herself at the Finest Toy Shop in the World!
Come on down to Hamleys Regent Street and join in the fun, don't forget to take a photo with Peppa Pig that you can share with us on Facebook, Twitter or Instagram using #Hamleys.
Meet the characters at –12:30- 13:00, 13:30- 14:00, 14:30-15:00, 15:30-16:00.
Additional Information: All Hamleys customers should expect queues at free events; customers should arrive early to avoid disappointment. Queues will be cut to ensure the event finishes on time. Standard Hamleys T&C's apply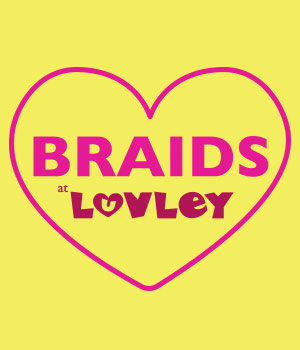 Braids at Luvley!
Date: Every Day
Time: 12pm–4pm
Where: Luvley Boutique
Our brand new Luvley Braid Boutique is in store NOW! Braid your hair like Princess Elsa, try our fishtail braids, butterflies and even love hearts.We have braid-a-licious hair accessories and why not top it all off with a sprinkle of glitter or a splash of colour. There is something for everyone at The Luvley Braid Boutique.
Come in and get Luvley-fied.
The Luvley Boutique is open EVERY DAY from store 12pm-4pm.
If you would like to book an appointment at the Luvley Boutique just ask to speak to one of the Luvley Girls in-store.
Have a Luvley Day at Hamleys!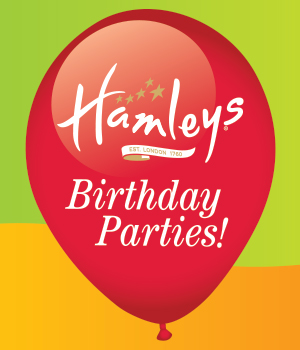 Have your Dream Birthday Party!
Date: Your Birthday!
Time: Every day!
Where: Hamleys Party Room!
Your exclusive Hamleys birthday party can take place at one of our six locations across the UK and Ireland - London, Cardiff, Glasgow, Manchester, Dublin & Lakeside. From the moment you book your birthday party at Hamleys the fun, magic and theatre begins!
Hosted by the Hamleys Entertainers, our special guests will enjoy an action packed time including activities, games & lots of fun. From treasure hunts and arts & crafts to dancing and party games, the birthday child and their friends will get to enjoy a truly magical experience. Each child will even get to take away a gift bag exclusive to Hamleys! Head over to our Birthday Party page for more detailed information.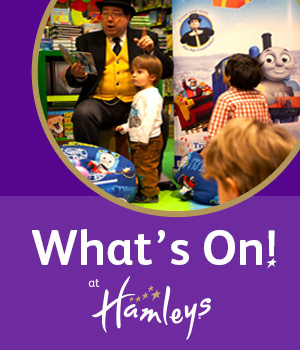 Hamleys on Facebook!
Date: Keep up to date Every Day!
Time: LIKE us today!
Where: Online!
We are always having a great time at the Finest Toy Shop in the World! To make sure you don't miss out on the fun, magic and theatre join us on Facebook by clicking on the link below and LIKE your local page. This means you will never miss out on special events, character visits, special offers, competitions and lots more!
Hamleys - Bringing Toys to Life!