Every day is a magical day at Hamleys
By regularly visiting our Manchester Store page you'll never miss any of the action!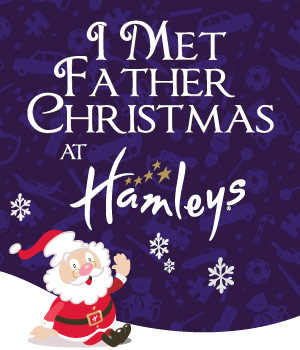 Meet Father Christmas at Hamleys!
Date: 21st November–24th December
Time: 10am-5pm
Where: Hamleys Party Room!
Join Father Christmas and his lovable elves at The Finest Toy Shop in the World! for fun, magic and theatre at this very special time of year. I Met Father Christmas at Hamleys! is an extra special experience where children will enjoy up to 1 hour with Father Christmas, take part in seasonal activities, enjoy delicious snacks and receive a special gift bag from Father Christmas to take home.
Each session is 1 hour long, sessions available on select dates.
Breakfast: 10am–11am
Pre-School Brunch: 12pm-1pm
Brunch: 12pm-1pm
Lunch: 2pm–3pm
Tea: 4pm-5pm
During this group session each little guest will hear magical stories of Christmas, sing festive songs, enjoy Christmas games, write their own Christmas wish list and enjoy special time with Father Christmas himself all surrounded by the finest toys in the world!
Star Wars at Hamleys!
Date: Saturday 12th December
Time: 11am-5pm
Where: Hamleys Manchester
Hamleys are celebrating the release of Star Wars the Force Awakens by giving you the chance to step into the magic!
Join in the fun with Hamleys Star Wars Green Screen, choose your favourite props and pose for a Free professional photograph.
You can then take home your picture in your very own Lanyard. You can see Star Wars The Force Awakens in cinemas from Thursday 17th November.
Lucasfilm and visionary director J.J. Abrams join forces to take you back again to a galaxy far, far away as Star Wars returns to the big screen with Star Wars: The Force Awakens.
The film stars Harrison Ford, Mark Hamill, Carrie Fisher, Adam Driver, Daisy Ridley, John Boyega, Oscar Isaac, Lupita Nyong'o, Andy Serkis, Domhnall Gleeson, Anthony Daniels, Peter Mayhew and Max Von Sydow. Kathleen Kennedy, J.J. Abrams and Bryan Burk are producing with Tommy Harper and Jason McGatlin serving as executive producers. The screenplay is by J.J. Abrams & Lawrence Kasdan and Michael Arndt.
Terms and Conditions: All Hamleys customers should expect queues at free events; customers should arrive early to avoid disappointment. Queues will be cut to ensure the event finishes on time. Standard Hamleys T&C's apply.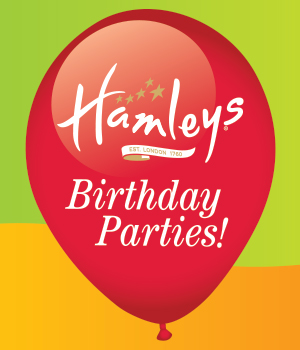 Have your Dream Birthday Party!
Date: Your Birthday!
Time: Every day!
Where: Hamleys Party Room!
Your exclusive Hamleys birthday party can take place at one of our six locations across the UK and Ireland - London, Cardiff, Glasgow, Manchester, Dublin & Lakeside. From the moment you book your birthday party at Hamleys the fun, magic and theatre begins!
Hosted by the Hamleys Entertainers, our special guests will enjoy an action packed time including activities, games & lots of fun. From treasure hunts and arts & crafts to dancing and party games, the birthday child and their friends will get to enjoy a truly magical experience. Each child will even get to take away a gift bag exclusive to Hamleys!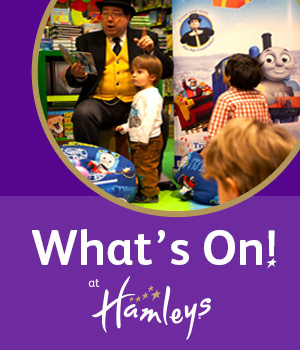 Hamleys on Facebook!
Date: Keep up to date Every Day!
Time: LIKE us today!
Where: Online!
We are always having a great time at the Finest Toy Shop in the World! To make sure you don't miss out on the fun, magic and theatre join us on Facebook by clicking on the link below and LIKE your local page. This means you will never miss out on special events, character visits, special offers, competitions and lots more!
Hamleys - Bringing Toys to Life!