Frozen 2 Now at Hamleys
Date: Thursday 14 November – Friday 6 December 2019
Time: 12:00 – 18:00
Location: Floor 2, Hamleys Regent Street
Hear Hear Ye! Step into our magical castle inspired by Disney's Frozen 2 at the Finest Toy Shop in the World this festive season!
The brand-new immersive shopping experience on Floor 2 will bring Frozen 2 to life where you'll enter an autumnal courtyard and if you're lucky, you'll meet some very special townsfolk.
If you'd like to see the grand welcoming of the Disney Frozen 2 inspired castle, then make sure you're there bright and early at 12noon as he'll announce an exciting day of fun activities:
At 12:15 & 16:30, will you be able to help save the day as our resident bakers Barry and Bernice Burnzit prepare to bake a cake for a very special occasion, but there's only one problem… they've lost the recipe!! HELP!
At 12:30, 14:30 & 17:00 make sure you don't miss Reindeer Training, where you might even hear the legend of a special reindeer (now… who could that be?)
And at 13:30, 15:30 & 17:30, last but not least, Doris and Gladys who are our tailor and seamstress are looking for Princes and Princesses to get dressed up in their costumes.
There's plenty of fun, magic and theatre! So, don't miss out!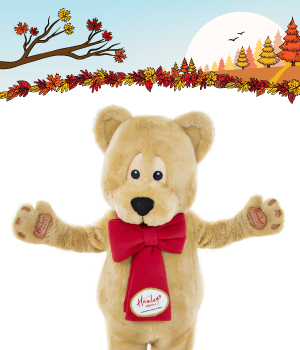 Grand Opening with Hamley Bear
Date: Every Day
Time: Monday – Friday at 10:00, Saturday at 9:30 and Sunday at 12:00
Location: Hamleys Regent Street
How would you like to help Hamley and Hattie Bear open The Finest Toy Shop in the World?
Every morning you can meet our loveable, huggable bears and join in the fun as we countdown to our grand opening. To be one of the lucky children chosen to ring the Hamleys Opening Bell make sure you arrive in plenty of time.
Don't forget to take a selfie with Hamley and Hattie and share on Instagram @HamleysOfficial with #Hamleys
Daily Parade
Date: Every Day
Time: 16:00
Location: Hamleys Regent Street
The Finest Toy Shop in the World is opening its doors to all from far and wide to welcome you to join the fun, magic and theatre! Come along and meet our very own Ringmaster, Pirate, Wizard, Ragdoll and Toy Soldier for our daily parade around the store, and the super special grand finale on 4th floor!
So why not try something new this Autumn and come to Hamleys Regent Street to experience something special and make a memory that will last a lifetime. Starting on the Ground Floor every day. Get ready to dance, move and follow the leader!